DreamHost is one of the most unique web hosting companies you are likely to encounter today. Out of the "big" web hosting providers, it definitely stands out with its unique way of functioning. This DreamHost review for 2022 will focus on the things that make it stand out, as well as address the most important issue from a client's point of view – customer service. So let's get started!
DreamHost Coupon Code, Prices, and Discounts
Unlike other web hosts, DreamHost is extremely conservative with coupons and discounts. Despite what other websites promise you on the Internet, there's only one DreamHost coupon that really works as of today. Here you can see all the DreamHost prices before and after discounts (if any):
Disclaimer: Your clicks sponsor my private jet 🙂
DreamHost has just one shared hosting plan.
Note: These are all yearly web hosting prices. It's not easy to compare costs across hosting providers because they all show different billing cycles. On this site, all prices are standardized to "per year" pricing. This way, you can accurately compare prices across hosting plans from difference providers.
Get the Biggest DreamHost Discount!
Need to make a decision fast? Click below for the maximum discount today:
Here's a review of DreamHost's new "Starter" shared hosting plan. It's cheaper than ever!
DreamHost Customer Reviews
Due to their unique, simplified plan structure, DreamHost gets a lot of kudos from first time web hosting customers. Take this review for example:
And while there are advanced options that may be confusing, the customer support team is very helpful. You'll find tons of reviews talking about this aspect of DreamHost: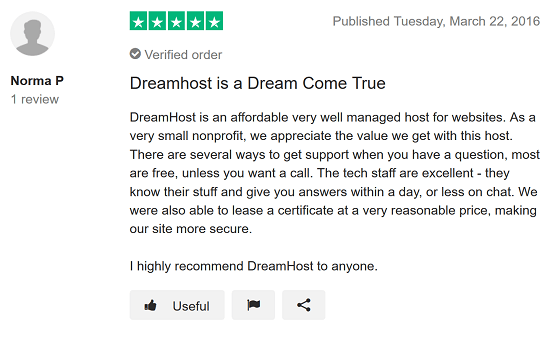 Another aspect is that people tend to stick with DreamHost for a long time. For example, here is a customer who's been with them for 10 years!
As you can see, praise for DreamHost isn't scarce. While all hosting companies have complaints, DreamHost goes out of their way to address those concerns, and they're very active on the various hosting forums.
Is DreamHost Owned by EIG? No!
DreamHost is not owned by EIG. In 2011, DreamHost put out a news broadcast claiming that its "new owners" were EIG, and all sorts of other outrageous claims like their support staff were being relocated to other projects etc. This was in fact an April Fool's joke that they haven't take down yet, and continue to entertain for some reason – probably because it's fun!
So as of this writing in 2022, DreamHost is not yet part of the huge conglomerate that is EIG. One of the few big companies that hasn't been bought over in fact, along with SiteGround and A2 Hosting. So rest easy!
DreamHost Review 2022: Customer Service
My personal experience with DreamHost has always been great. The few times I had to contact them to get something fixed, they responded almost immediately and also refunded whatever was owed instantly. But one swallow doesn't make a summer. What about other's experiences?
The thing about hosting, is that it operates on the "hygiene principle". This means that if everything is going fine, no one talks about it. But as soon as the shit hits the fan, everyone notices. As a result, reviews of any web host's customer service are inherently skewed towards the negative spectrum.
Unfortunately, it's a bit difficult to get an accurate picture of the general level of customer service with DreamHost. On the one hand, all of its reviews on the "Better Business Bureau" (BBB) are negative. On the other hand, the same BBB gives it a rating of A+. It's very confusing!
By default, there's no phone support – live chat and e-mail are the only two avenues for you to fix your problems. I personally prefer live chat to phone support anyway, since you can explain your problem more easily and can have all the documentation ready for next time. But if you still want to chat over voice with someone, there are callback options for a small fee – 3 callbacks are added to your plan and you can use them whenever you want.
Is There a DreamHost Renewal Coupon?
Surprisingly, yes! To my knowledge, Dreamhost is the only web hosting provider where you get to keep your lower discount prices when you choose a higher billing cycle. Every other web host forces you to renew your hosting at the full discounted price. Normally the discount you get is only for the first billing cycle – whether it's one year, or three years.
But the DreamHost coupon keep renewing year after year, allowing you to lock in your discounted rate. It's a truly unique offer that sets it apart from everyone else. To my knowledge, only the InMotion hosting coupon offers this with its higher end dedicated server plans. But even they renew at full price for their shared hosting and WordPress packages. DreamHost stands alone in the industry with regard to renewal coupons.
DreamHost's Shared Hosting Plan – Limitations
DreamHost prides itself in its simplicity. Right from its clutter free website, to its pricing schemes, they try and make things as minimal as possible. Even their cloud based plans don't have an upfront free – you're only billed for what you actually use at the end of the month.
They've taken this to an extreme with their "single plan" for shared hosting. There are no tiers, no additional resources, and no extra add-ons for memory, disk space, or simply just having fewer people share the server with you. While such an approach certainly makes it easy to choose a plan for a newbie, the problem is that sometimes complexity is necessary!
The range of websites is enormous – from plain HTML pages that hardly get any traffic, to plans that get hundreds of millions of visits per month. Having one plan for all of them is a recipe for disaster. It can't work!
Normally when a site begins to grow too large for its plan, they upgrade to a higher tier which has fewer customers on the same server, and so they get a bigger piece of the resource pie. Naturally, they pay more for this. So everyone gets the hosting that they're willing to pay for. Hosting providers can afford to have less crowded plans because they receive more money to compensate.
Which leads to the question of over utilization of DreamHost's servers.
Is DreamHost Overselling its Servers?
Probably. Of course, no one outside DreamHost has concrete numbers of how they're handling their customers, but there are lots of reports of really slow speeds, including a lot of time taken to perform basic WordPress operations. These are indications of overselling.
DreamHost's mantra of web hosting is simplicity. That's why they have just one single plan for all shared hosting services. If you want to upgrade, you have to use VPS, dedicated, or cloud hosting. So on shared plans they simply can't afford to lower their customer density since there's no additional fees you can pay to get more resources!
Unless DreamHost increases the tiers on its shared hosting, they're going to be forced to oversell just to stay profitable – and that's not a good thing. So if you have a website that you plan to keep growing, you'd better be prepared to migrate to either cloud, or VPS hosting, or even a dedicated server because DreamHost's shared plan is not going to be able to keep up!
Bonus Features – SSDs, Let's Encrypt, and Domain Privacy
A great perk of hosting with DreamHost is that all their servers are equipped with SSDs for faster read write operations. On their dedicated servers, you can choose whether you want to have huge storage with regular hard disks, or 15% of the storage with SSDs – it's the same price either way.
DreamHost is also a member of the hosting provider list that provides free Let's Encrypt certificates with one click via cPanel. So if you're like most sites, you don't need to purchase expensive SSL certs just to get that "https" symbol on your address bar. Only if you have real need of security and handle financial information like credit card info, should you purchase more expensive SSLs.
DreamHost also includes a free domain name with its shared hosting plans – not particularly unusual by itself, since GoDaddy and Bluehost also provide that. However, what truly stands out is their inclusion of free domain privacy. Normally that's a paid option whereby a hosting provider keeps your details off the public WHOIS website. That's a pretty big savings if you want domain privacy!
DreamHost WordPress Hosting – an Official Provider
DreamHost is an official WordPress provider. That means they're specifically endorsed by WordPress. Whether that means that they paid WordPress for an endorsement, or that they've been specifically vetted with a series of checks and criteria, is anyone's guess. DreamHost's WordPress plans are called "Dreampress".
However, DreamHost's cheapest WordPress plan is nothing but their basic web hosting "single size fits all" package. It doesn't even come with WordPress pre-installed – you need to use their one click installer for that. So as far as a client is concerned, there's no difference between basic DreamHost shared hosting and basic DreamHost WordPress hosting.
They start to step up their game however, with the higher tiers of WordPress hosting. They call this "Cloud WordPress", and it comes with additional features like pre-installed WordPress, Jetpack installation, automatic WordPress updates, SFTP and WP-CLI with which you can modify your WordPress installation via the command line.
DreamHost Review 2022: Custom Control Panel instead of cPanel
DreamHost is one of the few providers to eschew cPanel in favor of their own solution. Most likely cPanel went against their website theme and philosophy of "keeping things simple". As a result, they use their own custom admin panel. While most users initially face some adjustment difficulty for a couple of weeks, everyone agrees that it's every bit as good as cPanel when you get used to it.
The control panel also allows you to get SSH access – though it's not available by default. You first need to create a user and only then assign shell privileges.
DreamHost is quite proud of their custom panel. In fact when they joked about being acquired by EIG, they taunted their readership by saying that they're getting rid of their custom solution and moving to cPanel. You can imagine how that messed with people's minds!
Money-Back Guarantee
DreamHost has one of the industry's longest money back guarantees. While Bluehost's money-back period is 30 days and Hostgator's is 45 days, DreamHost ups them all by making it 97 days – more than double! So if you want to take a longer look at DreamHost's services before committing fully, you have over 3-months to do so. That's pretty cool.
DreamHost Cloud Plans are Like Unmanaged Servers
The regular DreamHost VPS services don't allow you to get full root SSH access. They are in fact, managed solutions. DreamHost doesn't have an unmanaged VPS service explicitly by that name. But what they do have, is a cloud solution that fulfills the same purpose. If you want an unmanaged machine where you can install whatever software you want, you'll have to opt for their cloud hosting package which will give you SSH access in less than a minute after you provision it.
DreamHost is also the only provider I know that provides "true" cloud services in keeping with the philosophy "You pay only for what you use". When you purchase a DreamHost cloud plan, you pay nothing upfront – you only pay for what you actually use during the month. And as a bonus, they bill you only for 600 hours, or 25 days. The rest of the days you get for free! A nice little perk of hosting your website in the cloud with DreamHost.
DreamHost Object Storage
Sometimes you just need to store large amounts of data. But disk space is expensive, since it has to be ready at all times for retrieval. DreamHost solves this problem by providing dedicated "object storage" space. Basically, you pay a measly 2.5c per month for each GB of data your store in object storage. That's ridiculously low. The downside is that you pay 5c per GB of downloads every month.
But that's the idea. Object storage is for long term storage like backups which you will need very infrequently. So it's cost effective to store them for a cheap price and use them very rarely. Things like internal video presentations, old project documents are perfect for squirreling away in DreamHost's object storage database. You'll always have them "just in case".
DreamHost MySQL VPS
This is another unique offering that I've never seen anywhere else. DreamHost essentially allows you to "VPS" your database. So even if the rest of your server is sharing resources with everyone else, you can ensure that the most critical part of your system gets its own dedicated space.
A database is usually the most CPU and memory intensive aspect of a website. A typical WordPress MySQL database can be queried hundreds of times on each page load. There's only so much you can optimize with caching solutions. Imagine if you could maintain the light-weight part of your site on shared resources, but give your database its own little nook where it won't share resources with anyone else. Perfect!
So if you're finding your site running slow, but don't want to upgrade to a VPS or cloud plan, how about just giving DreamHost's MySQL VPS a whirl? Chances are you'll dramatically improve the loading of your site without changing anything else.
Bottom Line
DreamHost has some of the most unique services I've ever seen compared to any other web host. Things like free domain privacy, Object Storage, MySQL VPS, and lifetime discount renewal coupons are simply not found anywhere else.
The only thing I would be wary of is their single tier shared hosting plan which is most likely over oversold. But instead of moving to a higher tier like you would with other providers, you can simply move to something like Cloud hosting, or even move to an upgraded WordPress plan for more resources. Or you could test out the MySQL VPS!
There are a lot of options for you if you want more power with DreamHost. And it's this flexibility which makes up for the lack of shared hosting tiers. Hopefully this DreamHost review has helped you make a more informed choice regarding this fascinating web hosting provider. Happy shopping!