Last updated on
Here is the Hostgator coupon code 2019 list for March, carried forward from 2018.
Disclaimer: Your clicks supply me with a steady stream of hookers and beer 🙂
Hostgator Coupon Code 2019 List(Click Codes to Copy!)

Hostgator Coupon Code 🡇

Highest Discount (%)

Description

78%
Shared Hosting: 71% - 78% off (12-months ONLY)
75%
Shared Hosting: 40% - 60% off
WordPress Hosting: 39% - 57% off
Cloud Hosting: 27% - 45% off
VPS Hosting: 50% - 75% off
Dedicated Hosting: 28% - 50%
Gator Website Builder 55% off
55%
Website Builder: 55% off
60%
Shared Hosting: 34% - 60% off
75%
Shared Hosting: 30% - 60% off
WordPress Hosting: 39% - 57% off
Cloud Hosting: 27% - 45% off
VPS Hosting: 50% - 75% off
Dedicated Hosting: 28% - 50%
61%
Shared Hosting: 34% - 61% off
99%
Shared Hosting: 1c for first month of ALL Hostgator Shared Hosting Plans
45%
Cloud hosting: 45% off
60%
1-year Shared Hosting: 60% off
2-year Shared Hosting: 60% off
3-year Shared Hosting: 60% off
78%
Shared Hosting: 71% - 78% off (12-months ONLY)
78%
Shared Hosting: 71% - 78% off (12-months ONLY)
62%
Shared Hosting: 40% - 62% off
55%
Hostgator Website Builder: 55% off
50%
Hostgator Website Builder: 50% off
25%
25% off ALL new Hostgator packages
44.57%
Cloud Hosting: 27% - 44.57% off
57%
WordPress Hosting: 39% - 57% off
Cloud Hosting: 27% - 45% off
73%
VPS Hosting: 50% - 73% off
50%
Dedicated Hosting: 26% - 50% off
99%
Shared Hosting: 1c for first month of Hatchling and Baby plan
99%
Shared Hosting: 1c for first month of Hatchling and Baby plan
99%
Shared Hosting: 1c for the first month
Many of these discounts are not available on the Hostgator pricing charts. But finding the right coupon for Hostgator isn't easy. WP-Tweaks has a partnership with Hostgator as a co-branded landing page with the best coupon for web hosting applied automatically once you click it!
My Rating: ★★★★☆
The Best Hostgator Coupon Code 2019
Need to make a decision fast? Click below for the maximum discount today:
Duration: 12 Months
Hostgator Coupon Code (Click to copy):
This coupon is for shared hosting. Here's a review of Hostgator Hatchling, and of the Hostgator Baby plan to see what you get and what you don't.
Frequently Asked Questions:
Most Popular Hostgator Coupon Codes in 2019
Even though Hostgator has a huge number of promo codes, there are some that are particularly popular on WP-Tweaks. Here's a list of the ones that people find most useful:
SAVINGSBUNDLE
This is by far the most popular Hostgator coupon code on this site. The reason is that it gives a massive 78% discount on the Hostgator Business Plan, which is far higher than any other discount offered by other codes. It also unlocks access to the cheapest shared hosting deal overall – $2.58/month for the Hatchling plan, as seen here:
However, there is a caveat. This coupon code is useful ONLY for a billing cycle of 12-months, or 1-year, not more. So if you're looking to test out Hostgator for a year, this is the best coupon code to use. If you're looking at hosting for more than a year, then there are better ones, as shown below.
This actually beats out the GoDaddy's $1/m plan because it includes free SSL – something which GoDaddy doesn't provide. So this code is actually my recommendation for cheapest web hosting per year.
To avail of this code, click below to copy:
READYHOSTING
This is the same coupon code as SHARED3660, but a bit more up to date. It always applies the newest discounts to all of Hostgator's products. Moreover, it's guaranteed to continue working even if Hostgator removes a discount from its general page!
You can get the READYHOSTING coupon code by clicking here:
FREEUPGRADE3
FREEUPGRADE3 gives you the same discounts as SHARED3660. At one time, it seems to have been the default Hostgator coupon code, but has fallen out of favor. However, it's still an extremely popular coupon and you'll find it a lot on the web. Hostgator has a habit of keeping its older coupons around, so this one should keep working for a long time.
The highest savings come when you use FREEUPGRADE3 with the Hatchling plan for 3-years. Surprisingly, the percentage discounts actually seem to decrease as you select the higher tier plans!
This nets you a total discount of 60.5%. Redeem it by clicking below:
SHARED3660
This is the default Hostgator coupon code that's applied when you purchase directly from them. It's actually a pretty good deal that gives you a nice 60.5% off when applied to a three year shared hosting plan. Unlike SAVINGSBUNDLE, the discount vanishes as you choose a lower billing cycle, dropping down to a mere 33% for 12-months.
So if you're looking for 3 year web hosting, the SHARED3660 coupon is not a bad choice at all! Get it now by copying it below:
1CENT or PENNY
This is the famous "1 cent" hosting coupon from Hostgator. As the name suggests, it allows you to get 1 month of basic hosting for just 1 cent. It's a great coupon if you want to test the service and kick the tyres. Remember though that after one month, you'll be billed the full amount per month, which makes it terrible at long term savings!
Use this coupon code only if you want to try out the service for a month, and then get a better deal with a different account afterwards. Get this code by clicking below:
Hostgator Coupon Code 2018: Any Differences?
The same Hostgator coupon code in 2018 will also be valid in 2019. The only time based coupons issued by Hostgator, are those found on special event sales like Black Friday, Cyber Monday, and Small Business Saturday.
Hostgator tends to have long term coupons for consistency, and to ensure that existing links don't expire. So any Hostgator discount code in 2018 will work in 2019. You don't have to worry!
How to Use Hostgator Coupon Codes
To get the discount provided by the coupon, first select the Hostgator plan you want from the appropriate page:
In the next page select the plan you want. Scroll all the way down till you see the section "Enter a Coupon Code".
Enter the code you want and click the "Validate" button. If you see a green tick mark, you know that it's a valid code. Sometimes during the checkout process, you'll find a Hostgator coupon code already filled in. Just delete it and replace it with the one you want.
Now when you scroll up, you'll see the discounts applied to the Hostgator pricing as shown here:
This is a great example of how different Hostgator discounts are applied depending on the plan duration. In the screenshot above, 12 months gives us 40% off. 36 months gives us 60% off! For some Hostgator coupons, the amount varies depending on the plan tier. Consult the chart at the beginning to know the discount range for each type of hosting plan. Don't forget to uncheck any add-ons products that might have been added automatically to your cart!
And that's all you need to know about Hostgator coupon codes in 2019. I hope these charts and graphs have helped you make a more informed decision about your hosting choices.
75% Off Hostgator Coupon Code
The Hostgator coupon code 75% off deal is available with two plans – VPS and shared hosting.
As you can see above, the best deal gives you more than just 75% off. You can get closer to 80% if you choose three years with the Hostgator Business plan using the first coupon! That's an amazing deal, and better than any other you're going to get with shared hosting with SSL included.
The above list gives you a VPS coupon for 75% that you might be looking for. It's activated only when you choose hosting for 3 years with the highest tier VPS plan.
Hostgator Coupon Code: 90% off?
Yes, there's a special deal that gives you 90% off with Hostgator, allowing you to get hosting for just 1 cent/month. But there's a BIG catch. The deal lasts only for one month as shown here:
Not only will it last for just one month, it'll also renew at the maximum month to month price! That's a terrible deal for the long term. The 90% off coupon code is great if you just want to test out the hosting for a short while. But for anything longer than that, your best bet is a different coupon. Choose from the list above.
1 Cent Hostgator Coupon for Business Plan
Normally, the PENNY Hostgator coupon can only be applied for the Hatchling and Baby shared plans. It doesn't work for the Business plan. Luckily, there's a workaround for this which allows you to get even the Business plan for 1 cent for a month if you want to test it out.
For that, you should use the "1CENT" coupon code. This is the same as PENNY, but also applies to Hostgator Business as shown here: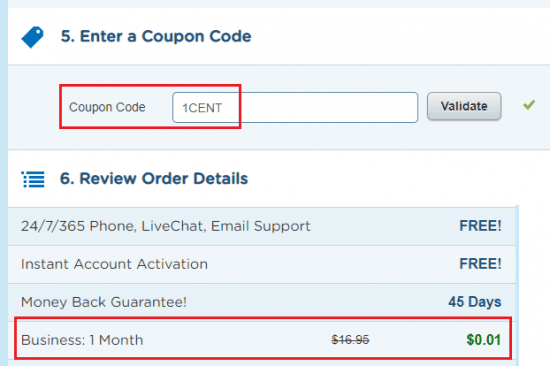 Just remember what I said above. It's a great deal only if you want to test out to see what it's like. If you plan on long term hosting, use a better coupon code to save more.
Does Hostgator Have the Cheapest Web Hosting?
It depends on whether or not you want a free domain with your purchase. If you already have a domain, then Hostgator's prices are the cheapest around. Bluehost is a close second.
But if you need a free domain, Bluehost wins out IF you can get the special $2.95/Mo deal.
I don't recommend GoDaddy even though they offer $1/m hosting for a year, because they don't provide free SSL. And in today's world, you can't afford to offer an unsecured site to your visitors! Google will penalize you in the rankings, Chrome will display warnings, and your visitors will be unhappy.
So bottom line:
Free domain – get Bluehost with the special $2.95/Mo offer
No free domain – Use Hostgator with one of the coupons in the list above
Hostgator Pros and Cons
There's a lot of choice in the web hosting world, and here's how Hostgator stacks up:
Pros:
Massive number of coupons – there's something for everyone
Their WordPress hosting includes a CDN
Free SSL (as opposed to GoDaddy)
Cheap cloud hosting – others like SiteGround are expensive
Accepts PayPal
Windows web hosting is available to run ASP.NET applications
Cons:
No free domain, except in the Gator Website Builder
No SSD hosting
No well-defined limits on server usage, unlike SiteGround
No dynamic caching
Data centers only in the United States. Not Europe or Asia
These pros and cons are for general web or shared hosting only. Specific products have their own advantages and disadvantages vis-a-vis the competition.
Hostgator Hosting Features/Limitations
The "Unlimited" and "Unmetered" part of hosting needs some clarification. It's true that Hostgator doesn't monitor your account usage explicitly. However, they do keep a lookout for how aggressive your site is relative to its traffic. If your site starts to use up more resources than everyone else and is causing slowdowns, they will suspend your account and ask you to upgrade.
Specifically, you can't use more than 25% of a server's resources for more than 90 seconds. This allows for a small burst in activity, but shouldn't endure for a long time. Ultimately, remember that this is shared hosting and there are limits to how much you can use.
Hostgator SSD: Unavailable
Unfortunately, Hostgator doesn't use SSD drives for its regular shared hosting. This is quite a major omission in today's world, where hosts like SiteGround, A2 Hosting, and Bluehost all use SSD for even basic web hosting.
Right now, Hostgator offers SSD drives only for VPS hosting. If you need SSDs for a non-VPS package, then check out this list of web hosts that offer SSD hosting.
Mind you, this need not be as big a deal as some people make it out to be. The true impact of SSD drives will be shown in database heavy applications like eCommerce sites. WordPress itself – though database driven – can use liberal caching policies to reduce the load on the database, so it might not make too much of a difference.
Hostgator Domain Coupon Code: Is it Included Free?
A Hostgator free domain is not included with the basic hosting plan. In this, they lag behind companies like Bluehost. However the Hostgator Website Builder bundle does have a free domain included! Check out my full review of the Hostgator website builder. With that, you get a complete suite of professional themes, a drag n' drop site designer, stock photos, and an e-commerce add on.
However, you can use the following domain coupon code to get a 20% discount on .com, .org, .net, and .info TLDs:
But you can get a free domain if you sign up for the Gator Builder website bundle using the following coupon for 55% off:
The above code includes shared hosting, a free domain, and a website builder.
If you're looking for the complete package, I suggest you use the above deal instead of the separate one for the Hostgator domain coupon code as it turns out to be much cheaper!
Hostgator Free Hosting: How to Get it?
Even though there's no separate plan for free hosting with Hostgator, you can sign up for the Gator website builder where hosting is included in the price of the builder. Use the following coupon code to get 55% off:
If you want, you can take a look at these options for free hosting.
Hostgator Reseller Coupon
If you want, you can start your own hosting business by "renting" Hostgator's infrastructure. Your clients will not know that you're not hosting your own servers. This is called "reselling", and you can get started with the following Hostgator reseller coupon code: SNAPPYR192424 and get 58% off.
In February 2019, Hostgator decided to stop advertising its reseller services on the front page, though the package still exists. That along with changes to its 60% off coupon, was big news at the time!
Where Are the Hostgator Data Center Locations?
The main company of Hostgator has data centers in the following locations:
Houston, TX (CyrusOne)
Provo, UT (Ace Data Centers)
Here they are on the map:
Unfortunately, we can't choose on which data center we want to host our site. But as you can see, both these locations are more or less situated in the center of the US, and there's not going to be much of a latency difference, regardless of where it's hosted.
There's also no Europe datacenter. You should check out SiteGround if you need a data center in Europe, or Singapore. But Hostgator also has a bunch of subsidiary partners around the globe. So for example, if you want to host in India, you can use the Hostgator India branch. But keep in mind that these are all separate companies. You can't use the support team of one to address a problem in another region.
Here's a list of Hostgator branches around the world:
USA
India
Brazil
Turkey
Singapore
China
Russia
Mexico
Columbia
Chile
Africa
Malaysia
Indonesia
These Hostgator divisions are integrated locally with their own separate currencies, government regulations, and support languages.
How do I Log into Hostgator cPanel?
All Hostgator shared hosting plans come with cPanel on Linux servers. However, this doesn't apply to managed WordPress hosting, which has its own custom dashboard. To log into cPanel, use one of the following URLs in order of preference:
yourdomain.com:2083
yourdomain.com/cpanel
cpanel.yourdomain.com
yourdomain.com:2082
The last one is the least desirable. This is because port 2082 is for unsecured connections, and there's a danger that it'll send your passwords over the Internet in plaintext. The first three options should lead you to the HTTPS version of the Hostgator login. But just to be sure, try specifying port 2083 explicitly first!
Free Hostgator SSL is Now Included
Despite low prices, Hostgator had previously suffered from a lack of free SSL. Even its sister EIG companies like Bluehost had started to offer free Let's Encrypt certificates. But on June 28th 2018, Hostgator finally capitulated and now offers free SSL with all its shared hosting plans. That's fantastic!
Let's Encrypt certificates expire once every 90 days. But the good news is that Hostgator automatically renews your SSL certificates, so you don't have to! There are also Hostgator coupon code 2019 SSL offers if you want to purchase separate positive SSL for your site.
Which Hostgator Coupon Code 2019 to Use?
These promo codes overlap a lot. It's confusing! For example, you have many choices for a Hostgator VPS coupon. Same for the dedicated server coupon.
The Hostgator pricing discount will differ based on the hosting type, as well as the plan tier. The billing cycle will also impact the Hostgator pricing and discount. So I've done all the hard work for you and compiled the best Hostgator code list to use for each service in a pricing chart. You're welcome!
Shared hosting coupon code: SAVINGSBUNDLE
WordPress coupon code: READYHOSTING
Cloud coupon code: READYHOSTING
Hostgator VPS: SNAPPYV2
Dedicated servers: SNAPPYD2
Though these are "per year" costs, keep in mind that you can get bigger discounts by signing up for longer periods. For example, you can get the 75% off Hostgator coupon code for higher tier plans and for longer time periods. Basically the more you commit as an upfront payment, the higher the discount. The same Hostgator discount coupon might give you only 50% off for a shorter billing cycle!
The Hostgator hosting plans fall broadly into two categories – shared hosting, and VPS/Dedicated. Here's a graph showing how Shared, WordPress, and Cloud Hosting compare to each other after applying the appropriate Hostgator coupons.
And here's how their VPS and dedicated plans look when stacked against each other in the graph using Hostgator coupon code 2019 offers:
You can compare Hostgator's prices to that of its competitors in the pricing charts below:
Hostgator Coupon Code 2019 for Black Friday
The Hostgator Black Friday coupon list is HUGE. They have 3 "all-day" coupons and 14 "hourly" coupons that activate at specific times of the day. See the table in the link to find out more. Other providers have discounts on Black Friday for sure, but Hostgator really knows how to throw a party!
To take full advantage of Hostgator's Black Friday deals, you need to track specific timings, to receive the biggest discounts.
What About a Hostgator Renewal Coupon?
There are no Hostgator renewal coupons.
The discount you get for the first billing cycle – from 1 month to 36 months – is one time only. Then next time you renew, you will pay the full Hostgator price of the plan as shown in the chart above. So the Hostgator hosting coupon is valid for one payment only.
Theoretically, this means that you get the biggest savings by purchasing a plan for the maximum duration of 36-months. Unfortunately this has two problems:
You may not be willing to commit for that long
You don't have that much up front cash!
Remember that signing up for a long period locks you in for that period. You can of course get a refund within their 45-day money back guarantee. But after that, you'll have to rely on the goodness of their hearts to give you a pro-rated refund on early termination. There's no mention of a refund in their "Terms & Conditions", but you can ask for it over live chat – and hope you get it!
The second problem for a longer billing cycle is that it requires a large up-front investment. You might be taking on an uncertain project and you're not sure if it'll pay off for example. In such a situation, signing up for more than 1 year at a time probably isn't wise.
If you want to test the service with a Hostgator coupon code 2019 deal, I suggest you sign up for a month using their PENNY coupon code. It allows you to pay just 1c for the first month of hosting. Just choose a billing cycle of 1-month and you get the hosting pretty much for free. If you decide you like it, you can quit, create a new account and sign up again. Remember the rule about no renewal coupons!
Hostgator Customer Support
Hostgator customer support is available 24 hours a day, 7 days a week. Here are their contact details:
Local: (713) 574 – 5287
Toll-Free: (866) 964 – 2867
International: 00+1-713-574-5287
Fax (Billing): (281) 476 – 7800
In addition, they have a surprisingly large knowledge base which covers everything from setting up your account, to how to enable CDNs on WordPress hosting. Some of these articles might be a bit out of date though.
They also have a very active support forum, where you can post your questions and get answers from the community. Check it out – chances are that you'll find whatever you're looking for over there!
Hostgator List of Services
Hostgator's been around for a long time, so they have the basics pretty down pat. Here's a quick run through of their products:
Hostgator Web Hosting
Shared web hosting is what made them famous. They're the most cost-effective web hosting provider – even more so than GoDaddy because they provide free SSL. Here's a complete review of Hostgator web hosting, including their three plans – Hatchling, Baby, and Business. It also contains a list of what you get with each plan, and their limitations.
While the disk space on all the plans is "Unmetered", this is subject to Hostgator's Terms & Conditions. All shared hosting plans come with cPanel, Unlimited MySQL databases, and SSH access.
The best Hostgator coupon code 2019 to use for this plan is:
Hostgator Cloud Hosting
Cloud hosting is different from shared hosting, in that the data is spread out across multiple servers. Here's a complete review of Hostgator cloud hosting, and how it differs from their regular shared hosting. Basically, you get a bunch of features such as the ability to add more resources, and your data is secure because it's held on three different servers.
However, this is not a CDN. There's no geolocation. But it also provides a static varnish cache to speed your site up. Check out the link for a more detailed review.
The top Hostgator coupon code 2019 for cloud hosting is:
Hostgator VPS
The Hostgator VPS is what you get when you're tired of sharing your server with other people. You get your own RAM and CPU. With that, you also get the complete power of root access, so you can customize your server the way you want. Many people might not be ready for this, because it requires quite a bit of technical expertise to set up and maintain.
Hostgator VPS comes in two flavors – fully managed, and semi-managed. The first one takes all the management out of your hands and provides you with a cPanel control panel so that you don't have to set up anything yourself. The semi-managed service however, leaves you on your own. This one is only for those who have the tech skills to set up and maintain a server by themselves!
The best Hostgator coupon code 2019 for VPS is:
Hostgator WordPress
While the regular shared hosting is perfectly capable of running WordPress, the dedicated WordPress solution by Hostgator has a few perks. The most notable in my opinion, are the inclusion of a CDN and dynamic caching. Both of these are geared to make your site faster, and reduce the number of requests to your server.
The Hostgator WordPress plan also includes automatic theme and plugin updates, so you don't need to keep logging into your installation just to keep your software up to date. Depending on your level of technical expertise, the Hostgator WordPress plan is a great option to have a smoothly running WordPress site!
Here's the best Hostgator coupon code 2019 for WordPress:
Read my review of Hostgator WordPress hosting for more details!
Hostgator vs Other Hosting Providers
Here's a comparison of how Hostgator compares with other web hosts.
Hostgator vs Bluehost
Some interesting points to note:
Bluehost's lowest price is available only when you sign up for 3-years (36 months)
Bluehost has SSD storage
Bluehost allows only 50 GB storage on their basic plan. Hostgator is unlimited. However, this is subject to Hostgator's restrictions.
Bluehost gives away a free domain with every new shared hosting account
Hostgator has free unlimited subdomains, whereas Bluehost restricts it to 25 for the basic plan
Bluehost allows 5 parked subdomains, whereas Hostgator's Hatchling plan does not
Here's a detailed comparison between Hostgator and Bluehost. In general, if you're searching for the best deals, you should choose Hostgator. The prices are lower too. Sometimes there'll be a special Bluehost deal for $2.95/m, but it's hit and miss, so there's no guarantee that you'll find it.
Hostgator also has WAY better Black Friday deals!
Hostgator vs SiteGround
The biggest difference between the two is that SiteGround has SSD drives, but offers just 10 GB in storage space.
SiteGround is also a much more sophisticated web host compared to Hostgator. They have special web hosting tools like the Super Cacher, which automatically creates static caches of your pages at the server level. This means that your server response times will be faster, and there'll be less load. This eliminates the need for 3rd party plugins like W3 Total Cache and WP Super Cacher.
They also have staging, which allows you to test out major changes on your site before they go live. There are also very clear SiteGround hosting limitations. While all web hosts oversell their shared servers, SiteGround is uniquely transparent about it. Hostgator has nothing similar
SiteGround has clear hosting limitations, and implement a special "Hive" technology which isolates shared hosting accounts from each other. This means that other accounts on the same server won't be able to impact your site. It's more like "mini-vps" hosting instead of shared hosting!
On the flip side, it's more expensive. I often say that SiteGround is the "Apple" of shared hosting. Hostgator on the other hand is great for starting off your web hosting, especially the "builder" bundle. SiteGround has no equivalent feature. It's geared specially towards developers.
So to summarize. SiteGround differs from Hostgator in the following ways:
Special dev tools like SuperCacher and staging
No coupon codes like Hostgator
More expensive shared hosting
VERY expensive cloud hosting
No increased discounts for higher billing cycles unlike Hostgator
No PayPal payments unlike Hostgator
SiteGround has datacenters in 3 continents. Hostgator is only in the US
SiteGround has free daily backups. Hostgator has CodeGuard
Hostgator vs GoDaddy
GoDaddy is much more "raw" compared to Hostgator. They also have the equivalent of Hostgator coupon codes, but I get the feeling they don't take web hosting very seriously. The biggest example of this is SSL. Unlike Hostgator, GoDaddy doesn't provide free SSL, and this makes them a "no-deal" right out of the gate. It's the 21st century. No one should have to pay for basic SSL anymore.
Moreover, they have a 1 GB MySQL database limit for one table. That is extremely low. I can't imagine any serious website hosting with the starter plan. Now you might say that there are other higher-tier plans, but compared to the Hostgator Hatchling plan, it comes out very badly indeed.
The $1/m GoDaddy hosting is the cheapest around, but this is deceptive. Without SSL, that cost goes up drastically. Moreover, it's only available for 12-months, so you can't extend the discount. In general, I wouldn't choose GoDaddy over Hostgator unless you want throwaway web hosting for a buck a month without SSL.
Bottom Line
The Hostgator coupon codes cover the entire range of services. You get discounts for every conceivable situation – single year hosting, multi year, and reducing the number of years you pay for. While not as comprehensive and solid as say SiteGround, the Hatchling plan is an excellent value for money. And with free SSL, Hostgator web hosting is perfectly reliable and solid.