Note: SiteGround doesn't have a VPS solution, and I no longer recommend them for shared hosting. Instead, I suggest NameHero Hosting for both. SiteGround's renewal prices are simply too high, especially after they replaced cPanel with their custom interface.

SiteGround asked me to take down this post, but I refused.
SiteGround doesn't have a traditional VPS package. They used to previously market the GoGeek plan as a VPS alternative, but now they redirect you to their cloud plans. Since SiteGround's cloud plans are very expensive, I will focus on the GoGeek plan in this article, since I feel it's closest to what most people want out of a VPS. If you want a true VPS experience on SiteGround, check out their cloud offerings.
For a "Real" VPS, Choose NameHero
For a real VPS, I recommend NameHero.
45% off NameHero VPS Discount
Another alternative is Liquid Web. Here's a review of the Liquid Web VPS.
SiteGround GoGeek Pricing
SiteGround also has a monthly GoGeek plan instead of charging the full amount for a minimum of 1-year. However, that will cost you an additional set up fee as shown here:
So there's no way to test the SiteGround "VPS" – you'll have to buy the plan instead.
Table of Contents:
SiteGround VPS Hosting vs GoGeek
GoGeek was called "semi-dedicated" hosting by SiteGround as shown in the screenshot here:
The link to the above screenshot now redirects to their cloud hosting site. While other web hosting providers give you a VPS with full root control, SiteGround thought it could satisfy all your needs with GoGeek instead. The reason for this is that migrating from shared hosting to VPS is hard.
It does this first and foremost by isolating the accounts on its servers using a unique technology called "Hive". This makes each account essentially a separate container, and no single account can misbehave and interfere with the others. Unlike many providers, SiteGround has strict rules on resource usage as shown in the table further down.
The SiteGround CEO Compares Shared Hosting to a VPS
Some claim that I'm being misleading when I compare SiteGround GoGeek to a VPS. However, the SiteGround CEO Tenko Nikolov himself compared SiteGround's plans to a VPS. Here are the quotes:
In reality every account on SiteGround shared hosting environment (including Hosting Plus and Business hosting accounts) is live on something similar to an isolated VPS environment within an OS called BaseOS.
…
Sounds pretty much like a heavily configured VPS, right? Only much much cheaper
Tenko Nikolov, SiteGround CEO August 11th, 2001
So for all intents and purposes, you are running a VPS. A fully managed VPS – but without cPanel. In fact, it's what I ran my site on for 7 years!
SiteGround Wants me to Take this Post Down
SiteGround is pretty desperate for people to forget that it ever marketed the GoGeek plan as "semi-dedicated" or as a substitute VPS. As the screenshots above show, this was indeed the case. But they sent me e-mails asking me to take down this post.
SiteGround might not like me referring to the fact that they used to equate the GoGeek plan with semi-dedicated hosting or a VPS, but you can't erase history. I've made it clear in this article, that the GoGeek plan is no longer marketed as semi-dedicated hosting, or a VPS. However, it's completely accurate to point out that this wasn't always the case.
I'm also no longer a SiteGround affiliate, so I'm free to present the facts as I see them. This whole drama made for a lively and engaging post on Reddit 🙂 .
Benefits of SiteGround GoGeek: Features
Here are the features of SiteGround's GoGeek plan.
| | |
| --- | --- |
| Monthly Visits | 400,000 visitors |
| Disk Space | 40 GB |
| Websites Allowed | Unlimited |
| SuperCacher | Static + Dynamic + Memcached |
| On-Demand Backup | Yes |
| Priority Support | Yes |
| Professional Site Transfer | Yes |
| PCI Compliance | Yes |
| Staging | Yes |
| Git | Yes |
SiteGround GoGeek Features
SiteGround's GoGeek plan comes with a whole bunch of special tools and features to speed your site, and easy development. Here's a screenshot of them in the new SiteGround interface, with a more detailed explanation below: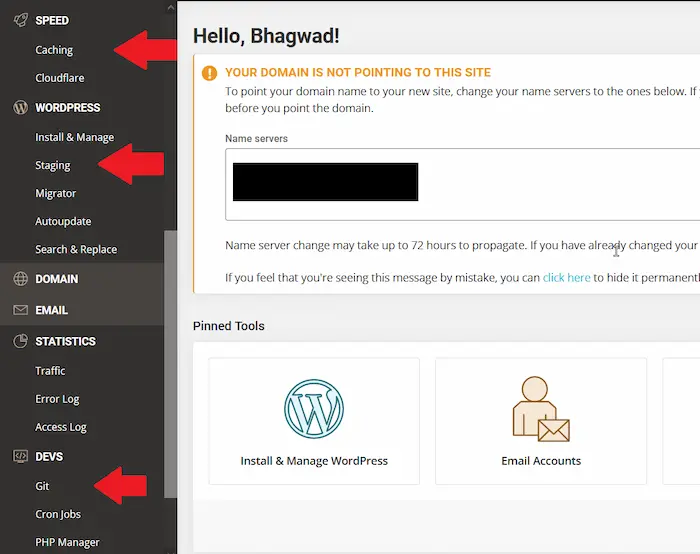 VERY Low Density Servers
As the highest tier of web hosting in this category, it's not surprising that SiteGround reserves its best and least dense servers for its VPS plans. Moving to the semi-dedicated hosting on GoGeek instantly resolved all my resource cruches, and I'm still using only about 2% of my allotted capacity!
Unlimited Visits and 40 GB Space
While the StartUp and GrowBig plans have "recommended" visits, the GoGeek plan has no such limitations. You get 40 GB of disk space, which should be sufficient for a website of any size.
Staging
But the real benefits of the VPS plan come with the additional "Geeky" perks like SiteGround staging. This allows you to make a duplicate copy of your site, and test out all your changes on the copy in perfect safety. And then when you're done, you can "push" your changes to the live site with the click of a button.
So if you want to test out a new theme or plugin, the staging copy is the perfect place to do so. And with the SiteGround VPS plan, you can make as many copies as you want!
SuperCacher
The SuperCacher implements dynamic caching on the server level so that you don't have to manually use a 3rd party solution to serve static pages to your visitors.
Every good WordPress site has caching. Before I switched to SiteGround, I used to have manual solutions like W3 Total Cache and WP Super Cacher. But plugins themselves slow things down. SiteGround VPS plans however, have caching built into them via the NGINX reverse proxy. This means that all caching is handled at the server level, which makes it much faster and removes any load on your site whatsoever!
The SuperCacher runs on the server, but also has a companion WordPress plugin. Here's a screenshot:
From here, you can control the settings, purge individual pages, check to see if they're cached, and much much more.
SiteGround recently introduced a new version of its SuperCacher with an updated interface and great new features like Lazy Loading of Images, which further speed up your site.
Backups
However if you were to ask me, I would mention the backup policy as one of the true highlights of the SiteGround VPS package. You can see in my list of free backup alternatives, that SiteGround provides the most backup system of any hosting provider, with 30 days worth of data. This also includes a unique "1-click restore" feature. You have no idea how many times this has saved me in the past!
SiteGround GoGeek Pros and Cons
Here's a quick overview of the upsides and downsides of the GoGeek plan from the perspective of a power user seeking a VPS experience.
Pros
Low density servers
Full access to all SiteGround tools like Staging, SuperCacher, Git etc
Far higher limits on CPU seconds and script executions
Free one-click backup and restore. 30-days backup
Completely managed with cPanel, malware monitoring, updates etc
Premium support
Cons
Not a "true" VPS. No root access
Limitations to what software you can install
Even though accounts are isolated with HIVE technology, it's still shared resources after all
In short, the only real limitation to the SiteGround GoGeek package is that it's not "really" a VPS. As SiteGround says, it's semi-dedicated hosting.
I've been saying for years, that SiteGround is unlike any other web host. WP-Tweaks itself used to use them. If you're looking to get started, here are all SiteGround coupons in one place. The quality of their shared hosting plans is higher than any other comparable provider. And here's why.
Intimidated by VPS Hosting? Try SiteGround GoGeek
Read any forum on the Internet, and people will tell you that the natural progression for a website is to migrate from shared hosting to a Virtual Private Server (VPS). It's as if this is a god-appointed evolution and must not be questioned. What they don't tell you, however, is that a VPS is a lot more work. Suddenly you'll find yourself dealing with updating software, firewall rules, security, and a lot more stuff that's not business related.
But this has serious consequences. It takes time away from your business and interrupts your workflow. And frankly, you shouldn't have to. It's not your job to manage a server and worry about its performance. And if you're a small business, you can't afford to hire someone to manage your VPS either. As a result, it's perfectly normal to be wary of moving to a VPS server. Shared hosting has served you well so far – so can't you just have more of the same?
The answer is yes. With SiteGround. For more reasons than one, SiteGround's shared hosting is a lot more "VPS like" than other hosting providers. With account isolation and security via their "Hive" technology, SiteGround even calls its plans "semi-dedicated" hosting – from as far back as 2012. In this article, I'll show you why SiteGround's shared hosting is special.
Normal Shared Hosting Doesn't Have Dedicated Resources
Normal hosting providers take a single dedicated server and stack potentially hundreds of accounts onto it. Far more than they should. This is called overselling, and is similar to what a bank does when it assumes that everyone won't withdraw their money at the same time. The assumption is that no website will fully make use of the resources they promise.
This enables them to push more and more accounts onto a single server. But of course, this comes at a price. First, no single account is guaranteed the resources it needs. It's subject to availability, and what the other accounts are doing. Second, it compromises security. The more accounts you have, the greater the danger of one being insecure, and the attacker gaining access to the entire server.
A VPS is supposed to alleviate these problems. You get dedicated resources and complete isolation from other accounts on the machine. But SiteGround manages to accomplish the same thing with their shared hosting plans as explained below.
SiteGround Has Strict Limits on its Hosting Plans
Web hosts are typically wishy-washy about the limitations of their hosting plans. They say things like "You can't use a disproportionate amount of resources". They're cagey because they can't promise specific resources. If another site happens to be taxing the server at a certain time, those resources are denied to everyone else.
SiteGround on the other hand, promises and enforces strict limits on all its shared hosting plans. Each account is guaranteed a certain number of resources – CPU execution time, script executions, files, and more. You can see below, that these resources are monitored from SiteGround's interface as shown here:
SiteGround is the only web host to have such limits on CPU executions. No other host I've seen does it. And this is what makes their web hosting plans so much like a VPS. They even call it "semi-dedicated hosting".
Shared Hosting Security with Hive
The security risk with shared hosting is that if someone else's account is compromised, the attacker can then infect the whole server. No matter how secure your site is, you have no control over what someone else does. SiteGround solves this using something called their "Hive" technology that they developed in-house and then evolved into its own separate company 1H.
SiteGround was using Hive to achieve account isolation at least as far back as 2011, and probably even earlier. The technology isolates accounts from each other from a security point of view. So even if one website is hacked due to outdated software, the other accounts on the server are not threatened.
Two Aspects of VPS Brought to Shared Hosting
In conclusion, SiteGround shared hosting is more like VPS for two reasons – dedicated resources, and account isolation from a security point of view. Their GoGeek plan is in fact, a starter VPS solution, with all the convenience and management that you expect from shared hosting.
Yes, this means that SiteGround is somewhat more expensive than other web hosts. But now you know why. So if you're wary of migrating to a VPS (and you should be), consider moving to SiteGround's GoGeek plan instead. It'll give you the resources of a VPS without the hassle.
And if you still want to grow after that, SiteGround's cloud offerings should take care of any additional needs!
Is it Good Enough for VPS Hosting?
Most people need VPS hosting for the extra power. Not because they actually need root access. From this point of view, the SiteGround GoGeek "VPS" plan is more than good enough. I've been running multiple high traffic sites on a single SiteGround VPS plan for years, and I'm still well below my limits.
You also get full SSH access, along with private and public key generation via cPanel, so you can even manage your server from the command line if you want. However, if you require root access for specific applications, the ability to perform low level operations on your server, then this SiteGround VPS plan is not for you.
Bottom line:
Need more power? – GoGeek is your choice
Need root access? – You'll need "true" VPS hosting
Can I Downgrade my SiteGround from GoGeek?
No, you can't upgrade or downgrade your SiteGround GoGeek plan, unless it's to switch to another shared hosting package.
However, you can upgrade or downgrade your SiteGround cloud hosting account whenever you want. You just need to log into your panel and make the change. In addition, you won't have any downtime while you do this, since the resources are flexibly allotted on the fly.
Since a lot of people confuse cloud hosting with VPS hosting, this is the answer that makes the most sense for this question.
SiteGround Dedicated Server vs GoGeek
SiteGround doesn't offer dedicated servers anymore. Everything redirects to their "cloud" plan.
With cloud hosting, you're not getting a separate machine. Instead, they give you a "virtual" machine with resources drawn from several servers. In addition, it's fully managed with cPanel etc – the usual SiteGround software. You can read my beginners's guide to the difference between cloud and shared hosting, since there's so much confusion about terminology these days.
On the other hand, a dedicated server from SiteGround is your entirely. It's not in the same league as the SiteGround VPS plan.
SiteGround GoGeek = Apple: Focus on the User
I've often called SiteGround the Apple of the hosting world. While other providers go all the way with detailed packages, the SiteGround managed VPS plan is nothing but the GoGeek plan. Just like Apple has just a few iPhones at a given time, SiteGround uses its three plans for almost everything. Namely:
StartUp
GrowBig
GoGeek
Here's a SiteGround VPS coupon code to get 80 % off the GoGeek plan for the first billing cycle.
SiteGround figures that anything you want to do with a VPS, you can achieve with the GoGeek package. Now you might say that's not true. That a real VPS will allow you to install your own software, give you root access to the server, and allow you to manage it the way you want. And you would be right.
However, just like Apple focuses on the end task instead of the method, SiteGround feels that its managed VPS plans are better for the user, since they remove the hassle of taking care of your own server. It also probably reduces the number of support requests from people messing up their configurations!
SiteGround Datacenter Locations
SiteGround is one of the only web hosts with data centers across the globe, and not just in the US and Europe. As of now, you can host your SiteGround VPS in one of four locations:
Chicago, US
Amsterdam, NL
London, UK
Singapore
The Singapore presence is really awesome, because it's really rare to find a host with datacenter locations in Asia. In addition, Singapore is a great place to host your site if you have Asian clients.
Do I Get Root Access to SiteGround GoGeek?
No. Much like Apple, SiteGround tries to manage everything for you. Their philosophy is that you don't need root access to your server, because you have all the tools to do without it. So unless you purchase a SiteGround dedicated server, you're not going to get full root access to your installation.
However, you can get SSH shell access. It's a simple matter to generate the public and private key combinations. You can read my complete tutorial on how to get SSH access on SiteGround. But the permissions you get are for a regular user – not root.
Does SiteGround Docker Work Properly?
Given that all of SiteGround's hosting is completely managed, the answer is no – you can't run Docker properly on SiteGround GoGeek. Yes, you can get SSH access and connect remotely via a shell, but Docker requires advanced permissions that SiteGround doesn't provide.
This is one of those instances where you need a "true" VPS instead of the GoGeek solution offered by SiteGround. In this case, you'll need to purchase a SiteGround dedicated server.
SiteGround SSL is Free
SiteGround was one of the first web hosting providers to provide free SSL, and they continue to do so today. You can install Let's Encrypt certificates on all your domains and subdomains. And that includes wildcards! Meaning one wildcard domain certificate will cover all subdomains as well.
Warning: If you've changed your nameservers away from SiteGround, then the Let's Encrypt certificates won't renew automatically! I learned that the hard way. So if you've moved your DNS name servers to Cloudflare for example, make sure that you install the regular Let's Encrypt certificates and not the wildcards.
No SiteGround Windows Hosting
All of SiteGround's services run on Linux. This means that if you need Windows hosting, then SiteGround isn't a good fit for you. Even their dedicated servers are fully managed, which means they run on Linux/CentOS.
SiteGround VPS Limits
Here's a list of the SiteGround limitations for all their plans, including GoGeek:
| | StartUp | GrowBig | GoGeek |
| --- | --- | --- | --- |
| Number of Websites | 1 | Unlimited | Unlimited |
| CPU Seconds | 1000/hr 10000/day 300000/month (7 minutes/hr) | 2000/hr 20000/day 600000/month (14 minutes/hr) | 4000/hr 40000/day 800000/month (18.5 minutes/hr) |
| Process Execution Time (Per Day) | 2 | 2 | 4 |
| Server Processes | 10 | 20 | 30 |
| Inodes | 200000 | 400000 | 600000 |
You can read about how to check those limits and an explanation of the terms used on this post here. While it's true that on a regular VPS plan, you can choose to run whatever you want, there are practical limits on what you can do, given your memory and CPU limitations. And the GoGeek plan attempts to replicate those limits in a managed environment.
Can I Get a Refund on SiteGround GoGeek?
SiteGround has a 30-day money back policy for all its regular hosting plans, and that includes the GoGeek package. The SiteGround cloud plan refund on the other hand, is just 15 days.
What is the SiteGround SLA?
Here's the complete SiteGround Service Level Agreement. Here's a quick summary:
Guarantee of 99.9% uptime
Between 99% and 99.99% = 1-month of free hosting
1-month free hosting for every additional 1% loss of uptime
However, the downtime doesn't include scheduled maintenance, and any other failures that are your fault. For example, if you overuse your VPS limits and your site goes down, SiteGround wont' be responsible for that. Neither are you covered if your site gets taken down by a DDoS attack, or hackers.
So go through the SLA carefully using the link above before raising a request and claiming downtime compensation.
SiteGround WordPress: How Many Visitors on GoGeek?
Let's use my own site as an example. As of this writing, I get around 500 visitors a day. That's 15,000 visitors a month. That's just 2.5% of my allowed usage. Extrapolating broadly, it means that my plan can currently handle 600,000 visitors a month! So if you're looking at whether you need more than the SiteGround "VPS" plan, ask yourself how many visitors you really expect. If it's less than the above number, then you can safely choose GoGeek.
Security
SiteGround also takes its WordPress security very seriously. They utilize LXC Linux containers and secure account isolation. This means that even though it's technically shared hosting, it's more "VPS" like, where other customers on the same server can't negatively impact you.
They also monitor your site for suspicious activity, and use their Hive technology to notify your of errors like this:
They also sit between your site and hackers who try and use bots to break into your site. This means that your site never has to even deal with these bots, meaning that you conserve your server resources. When you're the target of a concerted DDoS attack, you can thank SiteGround for it!
Special WordPress Support
From personal experience, I can confirm that the SiteGround staff are extremely knowledgeable about WordPress. As shown above, they have special WordPress tools like the SuperCacher plugin, the SiteGround WordPress Migrator, and staging. All of this indicates a superb proficiency with the technical intricacies of WordPress.
And it's not just the tier II technical staff either. Even the first contact customer service representatives are fully capable of handing most WordPress related problems. They hand the issue over to the next level of support stuff only when it's really complex.
SiteGround Cloud Hosting is the GoGeek Upgrade
What if you find yourself needing more than GoGeek, but don't want to plunge into dedicated servers yet? Well, that's what the SiteGround cloud plan is for.
You can see from my page on cloud hosting price comparisons, that SiteGround is the most expensive of them all. And it's not surprising considering that the cloud plans are an upgrade to the VPS or GoGeek plans. There's no limit to how big your site can get because you choose how many resources you want. Specifically, these three:
CPU – from 2 cores to 32 cores
Memory – from 4GB to 128 GB
SSD Space – from 40 GB to 1 TB
True cloud hosting means you can adjust your resources in real time and pay only for what you use. SiteGround's cloud plans offer that freedom, and you should consider upgrading to those when your GoGeek plan is no longer big enough!
SiteGround GoGeek Customer Support
GoGeek customers get top of the line customer support. I've personally been using it for years, and the response has been amazing. A few days back, there was a configuration problem with my Let's Encrypt certificates. With Live Chat, they were able to fix the problem in literally less than 5 minutes.
SiteGround prides itself on its qualified staff. Good customer support is expensive, and they don't skimp on this. They're available 24/7, and even their first tier support staff are extremely well informed.
In the rare even that the Live Chat reps are unable to help you then and there, they open a ticket for you so that the more skilled technicians can take care of the problem. They have a notification system that lets you know by e-mail whenever a support staff has responded to you, and they are fully capable of making any changes to your installation.
This level of customer support for GoGeek has saved my ass several times in the past when my site was down for some reason or the other. The good news is that their backup tools are so good that you often don't even need to contact SiteGround in the first place!
SiteGround GoGeek vs Other VPS Solutions
Because of its unique nature, this plan differs from others who provide the similarly named hosting packages.
SiteGround GoGeek vs Hostgator VPS
Here are the features of the Hostgator VPS basic plan called Snappy 2000:
| Features | Hostgator VPS (Snappy 2000) |
| --- | --- |
| Monthly Price | $19.95/month |
| Full Root Access | Yes |
| RAM | 2 GB |
| Cores | 2 Cores |
| Disk Space | 120 GB |
| Dedicated IPs | 2 IP Addresses |
| Bandwidth | 1.5 TB |
Hostgator's VPS plans are much more expensive compared to the GoGeek plan. Hostgator's VPS starts with 2 cores and 2 GB RAM. They're actual VPSs – meaning that you get an autonomous machine on your own. At checkout, you can choose whether or not you want to include cPanel as shown here:
Opting out of cPanel reduces the price a little bit, but not by much in the larger scheme of things. Without cPanel, they call it "semi-managed", and it includes full root access.
On the other hand, Hostgator VPS doesn't have all the tools and features of SiteGround's GoGeek plan. You'll have to create the custom solutions on your own.
SiteGround GoGeek vs Bluehost VPS
These are the Bluehost VPS features for the Standard (basic) plan:
| Feature | Bluehost VPS (Standard) |
| --- | --- |
| Monthly Price | $18.99/m |
| Cores | 2 Cores |
| Disk Space (SSD) | 30 GB |
| RAM | 2 GB |
| Bandwidth | 1 TB |
| Dedicated IPs | 1 IP |
| Root Access? | Yes |
Like the Hostgator VPS plan, this is a fully featured autonomous machine. And though it's not explicitly mentioned in the Bluehost features page, all VPS plans include full root access with cPanel and WHM.
But it's not a "bare metal" installation either. It comes with cPanel and WHM access. So it's more of a "managed VPS" solution – and therefore might not be so much more different than the SiteGround VPS plan!
So unless you specifically require root access, you should still consider the GoGeek package.
Bottom Line
The GoGeek Plan is SiteGround's "semi-dedicated" hosting. From here, you can upgrade either to the cloud plans, or go full on with dedicated hosting. I recommend the cloud to start with, since they manage everything for you, and running a dedicated server is quite a hassle. But till then, the SiteGround GoGeek plan should give you everything you need from VPS hosting!