I've often said that the Hostgator pricing is the cheapest, all things considered. When you visit the complete Hostgator coupon code 2022 page, you can see that the highest discount starts at 66% for 36-months at a price of $2.64/m. This is your best option for affordable, basic hosting – nothing fancy. You get a free domain, hosting space, bandwidth, and decent infrastructure.
But is this the best deal you can get? Is there anything cheaper than Hostgator?
The answer is, yes. But they all come with a catch. Read on below to find out what they are.
Best Hostgator Pricing Coupon
Right now, here's the cheapest Hostgator plan you can get:
Duration: 12-months
Discount Amount: 78%
Now let's see which providers can compare with Hostgator web hosting pricing, and what the catch is.
Table of Contents
Hostgator Price Chart
Here is the complete chart with all the Hostgator pricing details:
Hostgator Add-on Pricing
In addition to web hosting, there are also additional services. Here is the pricing for the Hostgator add-ons.
Hostgator Add-ons Pricing
You can buy these Hostgator add-ons during the checkout process, or after you've already bought hosting. But they have to be attached to an existing Hostgator web hosting package.
Bluehost Almost Beats Hostgator Pricing – But Not Quite
Bluehost isn't the cheapest hosting service – not by a long shot. And there are indications that it's about to get more expensive. However, under special circumstances, Bluehost offers an amazing $2.95/m plan with a free domain! In absolute terms, this is as close to the low Hostgator pricing as you can get.
However, there are a few caveats.
Catch 1: Very Rare Discount
The $2.95/m deal only shows up for special occasions. I've tried to see which actions can force it to appear, and it seems to be a bit hit and miss. The link above shows you how you can increase your chances of seeing the deal.
Also, it's only worth it if you don't currently have a domain. If you already have one or are switching web hosts, then the Bluehost deal doesn't bring as much value.
Catch 2: Only for 36-months
Often, it's not just the raw discount that matters, but total cash outlay as well. In the case of Bluehost, you can get this special deal only if you sign up for at least 36-months as shown here:
Many people might not want to commit to web hosting for such a long time. If this is the case, Bluehost immediately becomes far less attractive! On the other hand, if you manage to snag the $2.95/m deal with a free domain for 3-years, you get the maximum possible savings for regular web hosting.
GoDaddy – Not Cheaper than Hostgator, Thanks to SSL
GoDaddy's famous $1/m plan for 12-months would seem to beat out both Bluehost as well as Hostgator in terms of costs. In terms of low costs, it's certainly one of the lowest-priced deals on the market.
The Catch
The biggest catch with GoDaddy's $1/m web hosting is that it has no free SSL. Since early 2018, every major hosting company has been offering free SSL because of Google's mandate. Without SSL, you will face a decline in your Google ranking (all other things being equal). And GoDaddy's SSL isn't cheap. Instead of offering free Let's Encrypt certificates like everyone else, they make you pay around $78 per year for SSL!
That's an outrageous price for what should be basic amenities at this point.
Exabytes – Cheap, but Limited
When it comes to low-cost web hosting, hardly anyone can go lower than Exabytes. You can get started for 12-months at a price as low as $0.42/m. That's pretty amazing! Here's a review of Exabytes, along with all their pricing plans.
The Catch: Restricted Web Hosting at the Lowest Plan
While Exabytes doesn't hold back essential features like SSL (unlike GoDaddy), its basic plan has some very heavy restrictions that no "normal" website can live with. Here's a screenshot of their basic plan features: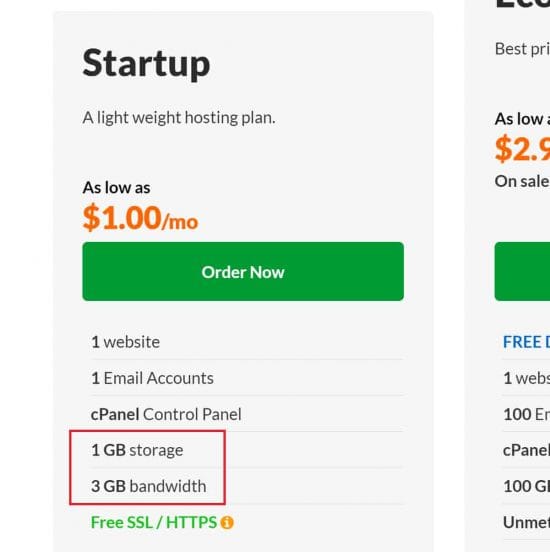 You can see that with only 1 GB of storage and 3 GB of bandwidth, this plan is geared towards only the most basic of businesses with barely any online presence. 1 GB of total storage space is extremely low, and with just 3 GB of bandwidth, you're not going to reach many visitors.
Hostgator's Prices are the MINIMUM
If you're looking for the cheapest web hosting per year, there's a certain price point below which you shouldn't go. Below that, web hosts start compromising on basic features that you'll need to run even a small website. Here are the limits I've found in my research:
MINIMUM Price for 3-years: $2.64/m after discounts
MINIMUM Price for 12-Months: $3.00/m after discounts
I'm basing both these limits off of Hostgator's discounts because I use them as a benchmark.
Why am I Using Hostgator as a Benchmark?
Many web hosts offer you dirt cheap hosting. Sometimes for pennies per month. On the other hand, there are plenty of expensive web hosting options with features oozing out the ears. Somewhere between these two, there is a minimum support point. If you go lower than that, you start cutting into the bone, and the service degrades irreparably.
I've found that Hostgator manages to find that "lowest supportable" point. Where you get just enough affordable, basic hosting to run your website properly without cutting too many corners. You'll find that given the specific feature list, no one beats Hostgator for price.
What Happens if you Go Below the "Limit" Price
The market is saturated with web hosts who offer prices lower than Hostgator, of course. GoDaddy for example sometimes has its famous "$1/m" plans for 12-months. Hostinger is another well-known hosting provider, whose prices are simply too good to be true – often a few pennies per month.
But each of these has fatal flaws that will make hosting on them very difficult. For example, Exabytes is a hosting provider that has really low pricing. But when you dig into the guts of their plan, you see that they have severe limitations on the disk space and bandwidth per month.
Similarly, GoDaddy and Hostinger don't have basic SSL support – something that's a necessity in today's world. GoDaddy's SSL option is expensive, and Hostinger makes you shell out a one-time payment for so-called "lifetime SSL", which in reality is just the free Let's Encrypt certificates that all the other web hosts like Hostgator provide without any additional charge.
Free Domains with Hosting
These days, most web hosts will give you a free domain when you sign up for an annual plan or more. For a long time, Hostgator didn't offer this, but late in 2019, they decided to offer that as well, along with a slight increase in their annual hosting price.
Some web hosts like Hostinger, don't offer a free domain with cheap plans as shown in the screenshot here:
So if you're looking for the lowest cost hosting, make sure you find one that offers a free domain along with everything else.
MySQL Databases and Disk Space
Unless you want to run nothing but a static HTML site with some images, you're going to need solid database capabilities on your web hosting plan. And not just one database – a few, for contingencies. Extremely cheap web hosting plans tend to skimp on this the most because it's the most demanding part of a hosting service. Databases use up a lot of CPU time, and so hosts like Hostinger minimize the number of MySQL databases on their basic packages.
You can see in the above screenshot, that it's just 1. Disk space is another resource. Hostgator for example offers unlimited disk space for regular websites. Of course, there are limitations to this that are explained in the link. But if you have legitimate reasons to use a lot of disk space for your site on even the basic hosting plan, you don't have to worry.
Bottom Line: Hostgator's Pricing is the Most Affordable
There's no such thing as a free lunch. If you find a web hosting plan with costs that are below $3/m for 12-month hosting, or below $2.64/m for 3-years hosting, chances are that it's missing something crucial. Either SSL certificates, or disk space, or MySQL databases. Look at all these very carefully before choosing a plan that can irreparably handicap your website.
Hostgator Pricing: Increased 12-Month Hosting
I've seen this coming for a while now. Earlier, I'd written a prediction of the web hosting pricing changes, and had noted that Hostgator was headed for a price increase. All the signs pointed to it. The earlier affiliate e-mail, and the recent licensing changes by cPanel, have all contributed. The most concrete example of this price change has been the change to their 12-month hosting bundle – which included a page builder, domain, and hosting.
Here's what the pricing used to look like:
And here's what the new one is:
This means that the SAVINGSBUNDLE coupon code is no longer the most affordable one when it comes to Hostgator pricing plans.
Is Hostgator too Cheap for "Serious" Hosting?
Hostgator is one of the cheapest providers of web hosting. The large numbers of Hostgator coupons give the impression of a "discount" web host. But is it really unsuitable for serious web hosting? The answer is: "It depends on what type of website you have".
You Ain't Seen "Cheap" Yet!
But this begs the question of Hostgator being cheap – because there are dozens of other providers that cut corners and offer hosting for mere pennies. This is why I view Hostgator as the default hosting option. They're the lowest-cost provider that doesn't resort to shady tactics which cripple your website.
For example, one host that I do NOT recommend is Hostinger. Here's a screenshot of them offering to host for less than a dollar a month:
Now that is called cheap hosting. And how do they manage to make it so cheap? By cutting corners and imposing absurd restrictions on websites. The account density of these servers is off the charts – which means that you share your resources with literally hundreds of others, resulting in slow load times, a starvation of CPU time, and I/O operations.
Now, this is the kind of package that's really unsuitable for "serious" web hosting. On the other hand, Hostgator's prices are low – but not absurdly so:
By comparison, Hostgator does a pretty good job of balancing costs with hosting on which you can actually run stuff long term. But as mentioned above, it depends on the kind of website you have.
Is Your Website Dynamic or Static?
There are two types of websites – dynamic, and static. The former involves personalized content, tailored to the visitor. For example, if you require visitors to log into your site, then you need to show them their name, perhaps the status of their latest orders, and more. All shopping cart sites are dynamic.
Static content on the other hand pretty much remains the same for everyone. Look at news sites – they show the same content to the entire world. Most people don't log in, and so they see what everyone else does.
Low-cost web hosting like Hostgator is best suited for static websites. The more expensive Hostgator plans are best suited for dynamic ones. The reason is that with static websites, we can use tricks to dramatically lower the server load, and so never run into resource issues like you would with dynamic sites.
Server and CDN HTML Caching Are Game Changers
If your website is mostly static, you can implement caching solutions to reduce website load. Some web hosts offer server-based caching, but with Hostgator for example, you can just install a plugin if you're using WordPress. Examples of plugins are:
W3 Total Cache
WP Super Cache
WP Rocket
These will store your static pages on the server as plain HTML, then serve them to visitors so that the server doesn't have to generate the pages from scratch using precious database and CPU calls. This one step can greatly expand your shared hosting limits on mostly static websites.
The next trend is for CDN providers to cache entire HTML pages instead of just images, JS, and CSS. I've previously written about how cheap hosting is the way forward with CDN caching. Using Cloudflare or the new QUIC.cloud, you can pretty much host your entire website on the cloud, and not even worry about things like your server being located too far from your clients. You can get this functionality for free on Cloudflare using the WP Cloudflare Page Cache plugin on WordPress. It can be installed on any WordPress website, regardless of how cheap your Hostgator plan is.
But Dynamic Websites Need More
The strategy outlined above won't work with dynamic websites. Even with partial page caching, the server still needs to do a lot of work to generate unique pages for individual visitors, requiring heavy database usage.
The cheap Hostgator plans are insufficient for these. So you'll need to upgrade. For example, Hostgator has a surprisingly good WordPress plan that has lower density servers, built-in server caching, and a native CDN with SiteLock to speed things up. You can also check out their cloud packages that have fewer accounts on each server.
Another great web host for dynamic sites is NameHero. It has a LiteSpeed web server that has excellent performance for dynamic websites. It also has a bunch of features that Hostgator doesn't – such as free offsite backups, malware scanning, and more. Plus their customer support is the best I've ever encountered. Here's the page for the best NameHero coupon, thanks to a unique tie-up with WP-Tweaks.com!
Bottom Line: Still the Most Affordable Web Hosting Per Year
If your site is a blog or even a business contact page where the client doesn't have to interact too much to receive personalized content, then the cheap Hostgator plans will do just fine. A little bit of optimization using plugin-based caching and integration with Cloudflare's CDN, and you're good to go. You can stretch those limits pretty far.
But as soon as you have dynamic websites like a shopping cart or other personalized content, you will need something more. For that, choose the higher-tier Hostgator plans, or use a different web host like NameHero.
The Latest Hostgator Pricing Coupon
With this change, my recommendation for the best discount has changed:
This new Hostgator coupon code, gives you a discount of 66%, for a monthly price of $2.64/m. You can see the new pricing in this screenshot:
Right now, this is the very best deal you can get on Hostgator shared hosting, despite what they show you on their home page.
Lower Hostgator Pricing Overall Compared to the Previous Coupon
While it's true that 12-month hosting is now more expensive by a large margin (gone from $2.58/m to $3/m), the overall savings on hosting are far higher, when you sign up for a longer period.
Under the old scheme, you would have had to start paying the full price for hosting after 12-months. With the new deal, you can maintain the pricing of $2.64/m for the full 3-years. That's quite a bit more in absolute savings compared to the previous deal!
Hostgator: No Warning Signs of Poor Web Hosting
You might be thinking that Hostgator pricing isn't that low. After all, there are plenty of web hosts with lower-priced hosting. But web hosting plans are full of gimmicks. In an attempt to entice you with lower prices, companies will compromise on all kinds of features, that should be a staple on any package. Here are 3 signs that you're looking at a poor web hosting plan – and if you spot them, make sure you run away!
1. Price is Lower than $2.50/m
I usually use Hostgator as my benchmark to determine if a web hosting plan sucks. Hostgator isn't anything special (except for their WordPress plans). But it's rock-solid hosting, at the lowest possible price.
As a result, when I see dirt cheap web hosting, I get immediately suspicious. Bluehost is the only plan that comes close, but that's only with their special $2.95/m deal that comes along very rarely – and you also need to sign up for 36-months at a time.
There are many companies like Hostinger which offer packages for dirt cheap – pennies per month. But remember – there's always a catch. If you still want to explore further, then see the rest of the warning signs below. The Hostgator pricing is right in the sweet spot.
2. No Free SSL
This is a massive warning sign for any web hosting plan. It should be printed in big neon lights over any web hosting provider that doesn't give you a free SSL certificate. In today's world, NO ONE needs to pay for SSL, and someone who doesn't give it to you for free is trying to scam you.
For example, Hostinger is often cited to have some of the cheapest plans on the market. And if you just look at their prices, you'll be inclined to agree. But then see this screenshot from their website:
So not only does the cheapest plan not give free SSL, the second cheapest plan doesn't either. At this rate, you have to purchase an SSL certificate, and that costs a lot more than the web hosting itself! GoDaddy is another major offender on this front. Yes, they have cheap $1/m plans. But those plans come without free SSL, which you'll then need to purchase anyway. Result? You end up paying a lot more for web hosting.
Hostgator on the other hand gives you free SSL on all their plans. It's built into the pricing. So if you see web hosting with suspiciously low rates, take a look at whether or not they provide free SSL.
3. Paltry Disk Space and Bandwidth Quotas
A normally functioning website requires at least a few GB to function. This is taking into consideration files and MySQL databases. A small website should also have a few GB worth of bandwidth. Anything less than that, and you risk running out of resources.
Sometimes, cheap web hosting plans limit their resources to pay for the low revenue. For example, Exabytes is one of the nicest "genuine" low-cost web hosting providers. They provide free SSL. But look at the resource allocations for their cheapest plan:
As you can see, this means that you'll run out of disk space or bandwidth pretty fast. It can particularly hurt when your site suddenly takes off, but instead of cashing in on the opportunity, your website goes down and you have to scramble for new hosting. That is a tragedy! Hostgator on the other hand gives you enough resources to run your company. It's not amazing, but it's good enough.
Hostgator's Pricing is Right on the Line
There's a limit to how cheap web hosting can get without sacrificing something along the way. I've already mentioned that I use Hostgator's pricing as a benchmark for "gimmick-free" hosting. However, many others in the same price range are perfectly good alternatives.
But if something is substantially cheaper than Hostgator, I immediately get suspicious. And when I look closely, I'm always right. Use the above tips as a guide to what's "real" and what's not!
Hostgator is Cheaper than Bluehost with Free Domains
For a long time, Bluehost was my "go-to" recommendation for long-term cheap hosting with a domain name included. I used to recommend Hostgator for short-term hosting only. This was mainly because Bluehost included a free domain name with the price and allowed users to apply that discount to long-term hosting of between 3 to 5 years, allowing them to "lock in" their savings.
Hostgator on the other hand used to reserve their highest discounts for shorter-term hosting, like the aforementioned 12-months plans. And for a long time, this dynamic existed. Bluehost became even more attractive if you managed to snag one of their $2.95/m deals, which dramatically increased the savings. But getting this offer to appear was difficult.
But then Hostgator started offering free domains in 2018, and that changed the dynamic completely. With the new free domains offer extended by Hostgator, it takes over the throne from Bluehost even for long-term plans. With the coupon code giving us a reliable $2.64/m for three years, you don't even need to get lucky. The coupon is reliable, always available, and will give you consistent discounts whenever you load the page. Try it and see!
Changes Likely Precipitated cPanel's Licensing Model
cPanel changed the dynamics of the web hosting pricing model when it upped its license fees on a "per website" basis, instead of on a "per server" basis. Different web hosts have responded to the challenge in different ways. SiteGround for example, simply went ahead and designed a custom control panel of their own, rather than suck up the higher costs.
Others like Bluehost and Hostgator have changed their pricing plans, as you can see above. Yet some like NameHero are thinking of offering a choice of control panel to newer users – like InterWorx for example. One thing is for sure – no one is unaffected. Even humble hosting comparison providers like myself are feeling the brunt as the industry readjusts itself.
Hostgator's Plan Has No "Catch"
Unlike the other cheap plans shown in this article, Hostgator's Hatchling plan is the real deal. No hidden "gotchas" that make you suddenly realize that your plan is insufficient for your needs. Hostgator has unlimited disk space, free SSL, and a complete complement of the usual cPanel tools to manage your site.
So yes – there are other web hosts cheaper than Hostgator. But they all have special conditions or hidden problems that are designed to get you to pay more. When it comes to solid, low-cost, gimmick-free hosting, I haven't found anyone to beat Hostgator yet.