I've often said that Hostgator has the cheapest web hosting, all things considered. If you see the complete Hostgator coupon code list, you can see that the highest discount starts at 78% for 12-months at a price of $2.64/m. But is this the best deal you can get? Is there anything cheaper than Hostgator?
The answer is, yes. But they all come with a catch. Read on below to find out what they are.
Best Hostgator Coupon
Right now, here's the cheapest Hostgator plan you can get:
Duration: 12-months
Discount Amount: 78%
Now let's see which hosting services are lower priced than Hostgator, and what the catch is.
Bluehost – Special Circumstances Only
Bluehost isn't the cheapest hosting service – not by a long shot. And there are indications that it's about to get more expensive. However, under special circumstances, Bluehost offers an amazing $2.95/m plan with a free domain! In absolute terms, this is the lowest "standard" web hosting you're ever going to get without gimmicks.
However, there are a few caveats.
Catch 1: Very Rare Discount
The $2.95/m deal only shows up for special occasions. I've tried to see which actions can force it to appear, and it seems to a bit hit and miss. The link above shows you how you can increase your chances of seeing the deal.
Also, it's only worth it if you don't currently have a domain. If you already have one, or are switching web hosts, then the Bluehost deal doesn't bring as much value.
Catch 2: Only for 36-months
Often, it's not just the raw discount that matters, but total cash outlay as well. In the case of Bluehost, you can get this special deal only if you sign up for at least 36-months as shown here:
Many people might not want to commit to web hosting for such a long time. If this is the case, Bluehost immediately becomes far less attractive! On the other hand, if you manage to snag the $2.95/m deal with a free domain for 3-years, you get the maximum possible savings you can image for regular web hosting.
GoDaddy – Not Really Cheaper than Hostgator Because of SSL
GoDaddy's famous $1/m plan for 12-months would seem to beat out both Bluehost as well as Hostgator in terms of costs. In terms of low costs, it's certainly one of the lowest priced deals on the market.
The Catch
The biggest catch with GoDaddy's $1/m web hosting is that it has no free SSL. Since early 2018, every major hosting company has been offering free SSL because of Google's mandate. Without SSL, you will face a decline in your Google ranking (all other things being equal). And GoDaddy's SSL isn't cheap. Instead of offering free Let's Encrypt certificates like everyone else, they make you pay around $78 per year for SSL!
That's an outrageous price for what should be basic amenities at this point.
Exabytes – Cheap, but Limited
When it comes to low cost web hosting, hardly anyone can go lower than Exabytes. You can get started for 12-months at a price as low as $0.42/m. That's pretty amazing! Here's a review of Exabytes, along with all their pricing plans.
The Catch: Restricted Web Hosting at the Lowest Plan
While Exabytes doesn't hold back essential features like SSL (unlike GoDaddy), its basic plan has some very heavy restrictions that no "normal" website can live with. Here's a screenshot of their basic plan features: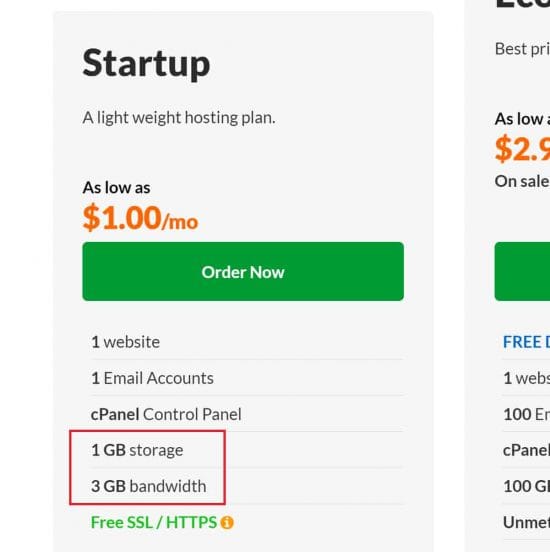 You can see that with only 1 GB of storage and 3 GB of bandwidth, this plan is geared towards only the most basic of businesses with barely any online presence. 1 GB of total storage space is extremely low, and with just 3 GB of bandwidth, you're not going to reach many visitors.
Hostgator's Plan Has No "Catch"
Unlike the other cheap plans shown in this article, Hostgator's Hatchling plan is the real deal. No hidden "gotchas" that make you suddenly realize that your plan is insufficient for your needs. Hostgator has unlimited disk space, free SSL, and a complete complement of the usual cPanel tools to manage your site.
So yes – there are other web hosts cheaper than Hostgator. But they all have special conditions or hidden problems that are designed to get you to pay more. When it comes to solid, low-cost, gimmick free hosting, I haven't found anyone to beat Hostgator yet.