I've often said that the Hostgator pricing is the cheapest, all things considered. If you see the complete Hostgator coupon code list, you can see that the highest discount starts at 78% for 12-months at a price of $2.64/m. But is this the best deal you can get? Is there anything cheaper than Hostgator?
The answer is, yes. But they all come with a catch. Read on below to find out what they are.
Best Hostgator Pricing Coupon
Right now, here's the cheapest Hostgator plan you can get:
Duration: 12-months
Discount Amount: 78%
Now let's see which providers can compare with Hostgator web hosting pricing, and what the catch is.
Table of Contents
Bluehost Almost Beats Hostgator Pricing – But Not Quite
Bluehost isn't the cheapest hosting service – not by a long shot. And there are indications that it's about to get more expensive. However, under special circumstances, Bluehost offers an amazing $2.95/m plan with a free domain! In absolute terms, this is as close to the low Hostgator pricing as you can get.
However, there are a few caveats.
Catch 1: Very Rare Discount
The $2.95/m deal only shows up for special occasions. I've tried to see which actions can force it to appear, and it seems to a bit hit and miss. The link above shows you how you can increase your chances of seeing the deal.
Also, it's only worth it if you don't currently have a domain. If you already have one, or are switching web hosts, then the Bluehost deal doesn't bring as much value.
Catch 2: Only for 36-months
Often, it's not just the raw discount that matters, but total cash outlay as well. In the case of Bluehost, you can get this special deal only if you sign up for at least 36-months as shown here:
Many people might not want to commit to web hosting for such a long time. If this is the case, Bluehost immediately becomes far less attractive! On the other hand, if you manage to snag the $2.95/m deal with a free domain for 3-years, you get the maximum possible savings you can image for regular web hosting.
GoDaddy – Not Really Cheaper than Hostgator Because of SSL
GoDaddy's famous $1/m plan for 12-months would seem to beat out both Bluehost as well as Hostgator in terms of costs. In terms of low costs, it's certainly one of the lowest priced deals on the market.
The Catch
The biggest catch with GoDaddy's $1/m web hosting is that it has no free SSL. Since early 2018, every major hosting company has been offering free SSL because of Google's mandate. Without SSL, you will face a decline in your Google ranking (all other things being equal). And GoDaddy's SSL isn't cheap. Instead of offering free Let's Encrypt certificates like everyone else, they make you pay around $78 per year for SSL!
That's an outrageous price for what should be basic amenities at this point.
Exabytes – Cheap, but Limited
When it comes to low cost web hosting, hardly anyone can go lower than Exabytes. You can get started for 12-months at a price as low as $0.42/m. That's pretty amazing! Here's a review of Exabytes, along with all their pricing plans.
The Catch: Restricted Web Hosting at the Lowest Plan
While Exabytes doesn't hold back essential features like SSL (unlike GoDaddy), its basic plan has some very heavy restrictions that no "normal" website can live with. Here's a screenshot of their basic plan features: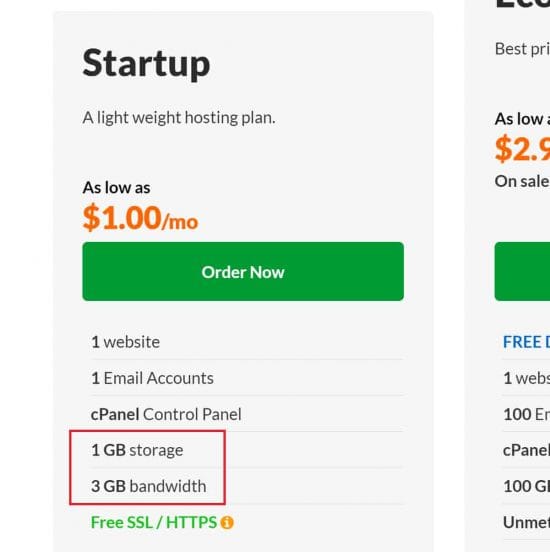 You can see that with only 1 GB of storage and 3 GB of bandwidth, this plan is geared towards only the most basic of businesses with barely any online presence. 1 GB of total storage space is extremely low, and with just 3 GB of bandwidth, you're not going to reach many visitors.
Hostgator Pricing – Increased 12-Month Hosting
I've seen this coming for a while now. Earlier, I'd written a prediction of the web hosting pricing changes in 2020, and had noted that Hostgator was headed for a price increase. All the signs pointed to it. The earlier affiliate e-mail, and the recent licensing changes by cPanel, have all contributed. The most concrete example of this price change has been the change to their 12-month hosting bundle – which included a page builder, domain, and hosting.
Here's what the pricing used to look like:
And here's what the new one is:
This means that the SAVINGSBUNDLE coupon code is longer the most affordable one when it comes to Hostgator pricing plans.
The Latest Hostgator Pricing Coupon
With this change, my recommendation for the best discount has changed:
This new Hostgator coupon code, gives you a discount of 62%, for a monthly price of $2.64/m. You can see the new pricing in this screenshot:
Right now, this is the very best deal you can get on Hostgator shared hosting, despite what they show you on their home page.
Lower Hostgator Pricing Overall Compared to the Previous Coupon
While it's true that 12-month hosting is now more expensive by a large margin (gone from $2.58/m to $3/m), the overall savings on hosting are far higher, when you sign up for a longer time period.
Under the old scheme, you would have had to start paying the full price for hosting after 12-months. With the new deal, you can maintain the pricing of $2.64/m for the full 3-years. That's quite a bit more in absolute savings compared to the previous deal!
Hostgator is Now Cheaper than Bluehost with Free Domains
For a long time, Bluehost was my "go-to" recommendation for long term cheap hosting with a domain name included. I used to recommend Hostgator for short term hosting only. This was mainly because Bluehost included a free domain name with the price and allowed users to apply that discount to long term hosting of between 3 to 5 years, allowing them to "lock-in" their savings.
Hostgator on the other hand, used to reserve their highest discounts for shorter term hosting, like the aforementioned 12-months plans. And for a long time, this dynamic existed. In fact, Bluehost became even more attractive if you managed to snag one of their $2.95/m deals, which dramatically increased the savings. But getting this offer to appear was difficult.
With the new free domains offer extended by Hostgator, it takes over the throne from Bluehost even for long-term plans. With the coupon code giving us a reliable $2.64/m for a period of three years, you don't even need to get lucky. The coupon is reliable, always available, and will give you consistent discounts whenever you load the page. Try it and see!
Changes Likely Precipitated cPanel's Licensing Model
cPanel really changed the dynamics of the web hosting pricing model when it upped its license fees on a "per website" basis, instead of on a "per server" basis. Different web hosts have responded to the challenge in different ways. SiteGround for example, simply went ahead and designed a custom control panel of their own, rather than suck up the higher costs.
Others like Bluehost and Hostgator have changed their pricing plans, as you can see above. Yet some like NameHero are thinking of offering a choice of control panel to newer users – like InterWorx for example. One thing is for sure – no one is unaffected. Even humble hosting comparison providers like myself are feeling the brunt as the industry readjusts itself.
Hostgator's Plan Has No "Catch"
Unlike the other cheap plans shown in this article, Hostgator's Hatchling plan is the real deal. No hidden "gotchas" that make you suddenly realize that your plan is insufficient for your needs. Hostgator has unlimited disk space, free SSL, and a complete complement of the usual cPanel tools to manage your site.
So yes – there are other web hosts cheaper than Hostgator. But they all have special conditions or hidden problems that are designed to get you to pay more. When it comes to solid, low-cost, gimmick free hosting, I haven't found anyone to beat Hostgator yet.