Hostgator SiteLock security is an option on each of the shared hosting packages. You can already get extremely cheap hosting with this Hostgator coupon list, and their SiteLock add-ons are extremely affordable as shown here (at least the starter plans!).
The question, of course, is whether or not Hostgator SiteLock is worth it, and I think the answer is "no". The reason is twofold:
Automatic cleaning doesn't address the source of malware
Creates a false sense of security
Highest Hostgator Discount
Here's the highest discount for Hostgator shared hosting on the market right now:
Duration: 12 Months
Hostgator Coupon Code (Click to copy):

SAVINGSBUNDLE
1. WordPress Hacks are Indicative of Deeper Problems
Have you ever noticed that only some pages on your website get inundated with spam comments? And you ask yourself "Why this page?" What's so special about this post or article that attracts spammers? The answer is that it's most likely been picked up by a spam network, and has propagated to all the nodes, branches, and brother/sister networks.
The same is true of hacked WordPress pages. If you blindly clean up a hacked page, the chances are that it's going to be hacked immediately again. So many WordPress intrusions are automated, and this bodes ill for any vulnerability that goes unfixed.
The SiteLock service offered by Hostgator doesn't make any promises to fix the systemic issues on your site or page that allow it to get hacked. And I don't blame it. There's no way an automated system can perform a deep inspection of a site and perform a "root-cause analysis" and isolate the problem.
In fact, most of the time you just need to update your theme, plugin, or core WordPress installation. SiteLock by itself doesn't do this for you. And if you don't address the core problem, you're going to be repeatedly hacked again and again.
It's fine when Hostgator SiteLock comes included with the plan itself, like with Hostgator's WordPress plan.
A Problem with ALL Automated Solutions
The above criticism is true for any automated system. At best, these systems are great as warning signs that require human intervention. They can't fix the problems by themselves, but this aspect of website security is always overlooked in the marketing materials. Which brings me to my second major point.
2. Hostgator SiteLock Breeds Complacency
If you read the advertisements on the SiteGround website or on the Hostgator service pages, you'll be forgiven for thinking that you don't need to do anything else to secure your site. That the software will take care of everything for you.
Worse still, it's very easy to fall prey to the mentality that you don't have to adhere to security best practices, just because you purchased SiteLock. It's the same effect that leads to increased casualties on pedestrian crossings because people get complacent. It's no joking matter.
Free Alternative for WordPress
Despite everything I've said above, it's a good idea to have some kind of security software running on your website. While I personally think there's no need to pay for something like SiteLock, the one I use on my own website is the iThemes plugin.
iThemes is a well-respected security company that's been in the business since 2008 and started by Cory Miller. Their WordPress plugin is one of the best all-in-one security solutions in the market and does an excellent job of hardening your website to prevent malware infections in the first place. I highly recommend it.
For example, it has a module that monitors all your internal files for changes not made by you, and alerts you when it finds something worrying: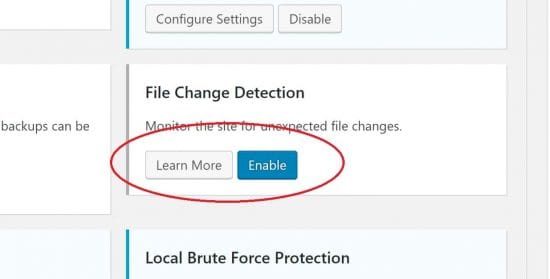 This is just one example. It also obfuscates your login page (my favorite) and has a host of other security tweaks that make it much harder for hackers to get into your site. And all for free! They also have a pro version, that you don't really need to use – their free version is so good.
The paid version's benefits include dedicated customer support etc – great options if you ever really do get hacked. Otherwise, the preventive measures that iThemes implements should ensure that you never need it in the first place.
Bottom Line
Hostgator SiteLocks makes the promise that you can stop worrying about security if you purchase the monthly service. But this simply isn't true. It does nothing to fix the roots cause of hacks and leads users into a false sense of security. Far better to get a security plugin like iThemes that hardens your WordPress installation and works on preventing hacks in the first place. Clean up should be a last resort, not the first.