Hostgator SiteLock is not worth the additional costs, mainly because you can get the same functionality from other sources for free. You can get extremely cheap hosting from this Hostgator coupon code page and purchase the SiteLock add-on for each of the shared hosting packages. They're pretty affordable as shown here (at least the starter plans are).
Click to scroll directly to the alternatives to SiteLock.
This is a screenshot of the add-ons screen from which you need to choose the Hostgator Essentials plan with SiteLock while checking out:
You can also add this to your regular hosting at any time after you've already purchased web hosting from Hostgator. From there, you can also upgrade or downgrade your SiteLock package.
Highest Hostgator Discount
Here's the highest discount for Hostgator shared hosting on the market right now:
Duration: 12 Months
Hostgator Coupon Code (Click to copy):

TWEAKSOFFERS
Table of Contents
SiteLock Hostgator Essentials Features
The Hostgator Essentials package from SiteLock comes with the following features.
Daily Malware Scanning
On the Essentials plan, SiteLock will scan your website once every day for malware. If it finds something, it will remove it immediately. It can scan an unlimited number of pages, so you can use it even for large sites.
Blocking Automated Bots
According to some estimates, bots account for 40% of all website traffic. Apart from the useful ones like search engines and a couple of others, this is detrimental to your site. It wastes your site's resources, and many of them try and target vulnerabilities on your website. Blocking the majority of these bots that are trying to hammer your site should be a priority.
The Hostgator Essentials plan does just that. It maintains a constantly updated list of bots that it prevents from accessing your site and slowing it down. It's quite a useful feature – especially on lower-priced hosting plans that don't have the CPU power to handle the attacks themselves.
SiteLock CDN – Content Delivery Network
Hostgator Essentials also comes with a CDN – a network that spreads your website files over servers located all around the globe. This way, whenever someone from a remote area accesses your site, the CDN can respond to them quickly – far faster than if your site had to serve the files on its own.
These days, a CDN is essential to compete with faster sites. However, this is one area where I'll say that the free Cloudflare CDN is better. But the Hostgator Essentials CDN comes in-built, and you can monitor its performance right from your dashboard.
Image Compression
The SiteLock Essentials plan also reduces the size of images served to your visitors. This is crucial for those locations where Internet speeds aren't reliable, or people are accessing your website on mobile devices via data plans. Images make up a nice chunk of your traffic. For some websites more than others. They're often unoptimized and detrimental to your site speed.
With image compression, Hostgator Essentials ensures that your visitors see the images quicker, and are thus less likely to leave your site out of frustration.
12-Hour SiteLock Ticket Response Time
Most people have no idea how to respond if their website is hacked. How do you find and clean it up? What tools to use? These are questions that can only be answered by someone who has been in the business for a long time. So if you choose the Hostgator Essentials plan, you can raise a ticket for a human being to come and help you.
The basic plan's response time is fairly long at 12-hrs. But it's still better than nothing! The more advanced SiteLock plans allow for response times for 6 hrs and 4 hrs respectively.
Missing Features from SiteLock Hostgator Essentials
Since it's the most basic plan from SiteLock, quite a few features are missing from the Essentials plan. Such as:
A Web Application Firewall (WAF)
Database Scanning
PCI Compliance (for e-commerce)
DDoS protection
You can subscribe to the higher-priced "Prevent" and "Prevent Plus" plans from SiteLock to access these features. But as mentioned above, I would personally just use Cloudflare at this point, as I feel they have a better service altogether. Plus I like their domain nameserver speeds.
SiteLock Pricing
It comes in three tiers with the following pricing:
Hostgator SiteLock Pricing
SiteLock isn't a standalone Hostgator product. It's attached to a specific hosting plan. You can buy it either when you first sign up for an account, or you can purchase it as an add-on from within your Hostgator dashboard. When you purchase it as an add-on during checkout, you get the basic Hostgator Essentials plan.
Problems with SiteLock
There are a couple of problems with relying on something like SiteLock.
1. WordPress Hacks are Indicative of Deeper Problems
Have you ever noticed that only some pages on your website get inundated with spam comments? And you ask yourself "Why this page?" What's so special about this post or article that attracts spammers? The answer is that it's most likely been picked up by a spam network, and has propagated to all the nodes, branches, and brother/sister networks.
The same is true of hacked WordPress pages. If you blindly clean up a hacked page, the chances are that it's going to be hacked immediately again. So many WordPress intrusions are automated, and this bodes ill for any vulnerability that goes unfixed.
The SiteLock service offered by Hostgator doesn't make any promises to fix the systemic issues on your site or page that allow it to get hacked. And I don't blame it. There's no way an automated system can perform a deep inspection of a site and perform a "root-cause analysis" and isolate the problem.
Most of the time you just need to update your theme, plugin, or core WordPress installation. SiteLock by itself doesn't do this for you. And if you don't address the core problem, you're going to be repeatedly hacked again and again.
It's fine when Hostgator SiteLock comes included with the plan itself, like with Hostgator's WordPress plan.
The above criticism is true for any automated system. At best, these systems are great as warning signs that require human intervention. They can't fix the problems by themselves, but this aspect of website security is always overlooked in marketing materials. This brings me to my second major point.
2. Hostgator SiteLock Breeds Complacency
If you read the advertisements on the SiteGround website or the Hostgator service pages, you'll be forgiven for thinking that you don't need to do anything else to secure your site. That the software will take care of everything for you.
Worse still, it's very easy to fall prey to the mentality that you don't have to adhere to security best practices, just because you purchased SiteLock. It's the same effect that leads to increased casualties on pedestrian crossings because people get complacent. It's no joking matter.
Free Alternatives for WordPress
Fortunately, there are ways to avoid paying for a separate security plugin on WordPress. Here are some alternatives. The most straightforward way is to find web hosting with free security.
1. iThemes Plugin
Despite everything I've said above, it's a good idea to have some kind of security software running on your website. While I think there's no need to pay for something like SiteLock, the one I use on my own website is the iThemes plugin.
iThemes is a well-respected security company that's been in the business since 2008 and was started by Cory Miller. Their WordPress plugin is one of the best all-in-one security solutions in the market and does an excellent job of hardening your website to prevent malware infections in the first place. I highly recommend it.
For example, it has a module that monitors all your internal files for changes not made by you, and alerts you when it finds something worrying: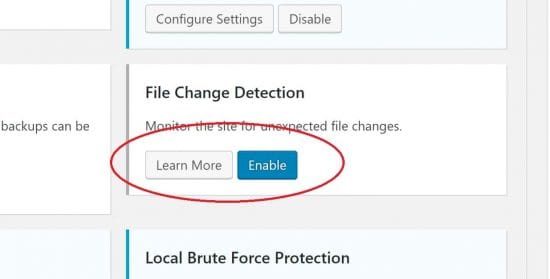 This is just one example. It also obfuscates your login page (my favorite) and has a host of other security tweaks that make it much harder for hackers to get into your site. And all for free! They also have a pro version, that you don't need to use – their free version is so good.
The paid version's benefits include dedicated customer support etc – great options if you ever really do get hacked. Otherwise, the preventive measures that iThemes implements should ensure that you never need it in the first place.
2. Jetpack Protect
An alternative to iThemes is Jetpack Protect for WordPress websites. The free version scans your site once a day, and while it doesn't have real-time scanning, it should be sufficient to detect malware on your site. The premium version also removes malware.
3. NameHero Has Free Malware Scanning
Another option is to buy web hosting with malware scanning built it. These typically cost more than ordinary hosting, but not by much. For example, my personal favorite is NameHero. They have free malware scanning via the Imunify360 cPanel plugin. When you factor in the costs of the separate SiteLock plan with Hostgator, the pricing works out to about the same, without the crazy restrictions.
NameHero also has far superior backup plans compared to Hostgator. Hostgator's backup system is non-existent. So by choosing NameHero, you save additional money that would have gone to a 3rd party backup solution like CodeGuard.
Think of Hostgator as vanilla, basic web hosting. SiteLock and CodeGuard are add-ons that make it functional. It might be better to just purchase hosting where these things are part of the package!
4. Use the Free Cloudflare CDN – It's Better
SiteLock also provides a CDN – something unavailable with plain Hostgator plans. But I've done extensive testing, and in my opinion, the Cloudflare CDN is the best. All Hostgator plans offer free integration with Cloudflare, and if you want, you can also use Cloudflare's DNS servers for even tighter integration. So you can get these features for free.
5. Cloudflare Also Protects you From DDoS Attacks
You can get a good chunk of your website security just by using the free Cloudflare integration, which gives you protection from DDoS attacks – including the all-important layer 7. And if you want to pay for the "Pro" plan, you get a super powerful WAF that sits in front of your site and protects you from all attacks. Not to mention a huge number of additional firewall rules that you can use to drastically cut down spam to your site.
Keeping all this in mind, the additional security provided by SiteLock becomes almost redundant. Cloudflare is an all-in-one solution that gives you everything for free.
6. HostArmada Has a Free WAF
The "Prevent" and "Prevent Plus" SiteLock plans include a "Web Application Firewall" or a WAF. This is an advanced firewall with dynamic rules that protects your website from external threats. It's a pretty good value addition.
However, you can get WAF functionality for free from HostArmada. Here's a complete HostArmada review, where you can check out the variety of features available. It's the only host I know of that integrates a WAF into their hosting!
HostArmada is also special because the support team helps you fix a hacked website instead of merely detecting the presence of malware. They make this functionality available on all their shared hosting plans.
Don't Forget the Importance of Backups
Even SiteLock can't guarantee that your site will never fail. To deal with these situations, you need to have a good backup system. Hostgator's default backups are pretty bad. By default, they backup your site only once a week on a random day, and they only store a single copy. What's more, you need to open a ticket to perform a restoration from that copy. It's lacking on-demand backup capabilities. So a 3rd party solution is called for. The in-built Hostgator add-on called CodeGuard is pretty lackluster. It simply doesn't provide enough.
To cover yourself, I suggest you choose a web host with free backups so you don't have to pay extra, or worry about losing your website. You can also checkout DropMySite for your backup solution. I use it myself, and it gives me a ton of space for a very cheap price. Using it, you can backup and restore entire sites with ease. Don't rely on Hostgator's in-built backup systems to save you.
Bottom Line
Hostgator's SiteLock makes the promise that you can stop worrying about security if you purchase the monthly service. But this simply isn't true. It does nothing to fix the root cause of hacks and leads users into a false sense of security. It's better to get a security plugin like iThemes that harden your WordPress installation and works on preventing hacks in the first place. Clean-up should be a last resort, not the first.