The Cloudflare cPanel plugin so many of us use to connect our domains to Cloudflare will officially stop working on the 1st of November, 2022. Here's a screenshot of the e-mail that Cloudflare sent out to all its hosting and reseller partners:
Those of us in the industry saw this coming a while ago. Cloudflare had warned us in June that they'll be retiring the plugin, and they hadn't updated it for two years. So there was plenty of time for web hosts to inform their customers and make alternate arrangements. With the end of cPanel integration, customers will have to manually sign up for Cloudflare on cloudflare.com and change their DNS servers.
Why is Cloudflare Retiring the cPanel Plugin?
Money! Ever since Cloudflare went public in September 2019, they've been more focused on revenue and free cash flow. The company still isn't profitable in 2022, though its income is snowballing, and I do not doubt that it will soon be in the green.
From a monetization point of view, I doubt Cloudflare was getting many paying customer conversions from the cPanel plugin. I am a paying member of Cloudflare's Pro plan because Cloudflare is an excellent CDN, and I think its DNS servers are the fastest of any service provider. Free customers have a much higher probability of turning into paid customers when they directly interact with Cloudflare's website, as opposed to the cPanel plugin. Given that the plugin takes resources to maintain, I'm not surprised that Cloudflare management decided it was dead weight.
Integrating without the Cloudflare cPanel Plugin
Now that you can no longer integrate your website with Cloudflare using the cPanel plugin, you'll have to perform a complete setup manually. Don't worry! It's not hard at all and is better than the cPanel setup since you'll be using the fast Cloudflare DNS servers instead of those provided by your web host. Here's a tutorial on how to change your nameservers for Cloudflare integration.
Benefits of Direct Cloudflare Integration
By manually switching your DNS servers to those of Cloudflare, you'll get much more robust integration with the Cloudflare architecture compared to the cPanel plugin. The DNS lookups will be faster, and you don't have to worry about things breaking when you switch web hosts. I moved to manual integration with Cloudflare a long time ago.
Alternatives to Cloudflare
The best alternative to Cloudflare is QUIC.cloud, which has a usage-based pricing model with a free tier. I've covered QUIC.cloud vs Cloudflare as potential candidates for cheap CDN hosting. Like Cloudflare, you can change your DNS servers to take advantage of QUIC.cloud's DNS servers, and it works as a reverse proxy exactly like Cloudflare.
However, if you use the LiteSpeed web server, QUIC.cloud becomes even more potent because it can use the LiteSpeed caching plugin to serve cached dynamic pages from its POP servers throughout the world. And using the plugin, you can set up your website with QUIC.cloud automatically, as shown here: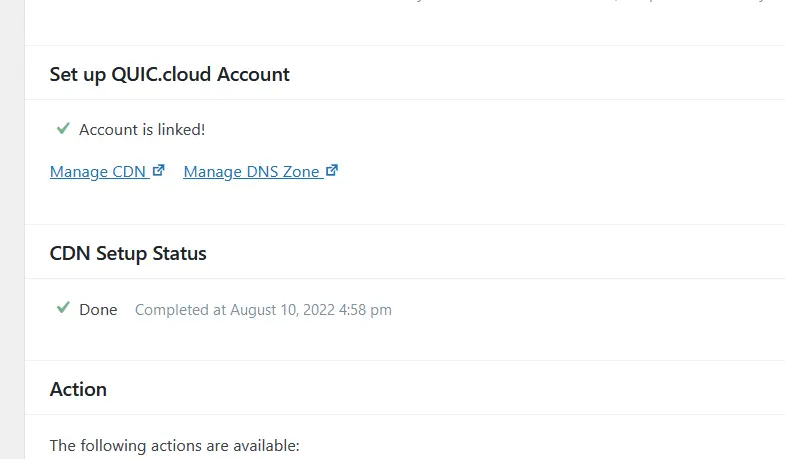 The QUIC.cloud CDN has caching similar to Cloudflare's Automatic Page Optimization or APO, but free. The free quota on QUIC.cloud is very generous, especially for those with a LiteSpeed web server. Here are the best LiteSpeed hosting providers in case you're interested.
Final Thoughts
Cloudflare made a name for itself thanks to the cPanel plugin, making it easy for everyone to integrate their website with their free CDN without any setup. But now that's coming to an end. It's free, but you need to set it up manually by changing your DNS servers and creating a Cloudflare account. You get many more features that way, and Cloudflare hopes to convert you into a paying customer once you see their features on the dashboard. Check out QUIC.cloud as the best Cloudflare alternative if you want to switch.