If you're looking for the cheapest web hosting, there's a certain price point below which you shouldn't go. Below that, web hosts start compromising on basic features that you'll need to run even a small website. Here are the limits I've found in my research:
MINIMUM Price for 3-years: $2.64/m after discounts
MINIMUM Price for 12-Months: $3.00/m after discounts
I'm basing both these limits off of Hostgator's discounts because I use them as a benchmark.
Why am I Using Hostgator as a Benchmark?
There are many web hosts that offer you dirt cheap hosting. Sometimes for pennies per month. On the other hand, there are plenty of expensive web hosting options with features oozing out the ears. Somewhere between these two, there is a minimum support point. If you go lower than that, you start cutting into the bone, and the service degrades irreparably.
I've found that Hostgator manages to find that "lowest supportable" point. Where you get just enough to run your website properly without cutting too many corners. Here's the complete Hostgator coupon 2020 list. You'll find that given the specific feature list, no one beats Hostgator for price.
What Happens if you Go Below the "Limit" Price
The market is saturated with web hosts who offer prices lower than Hostgator, of course. GoDaddy for example, sometimes has its famous "$1/m" plans for 12-months. Hostinger is another well-known hosting provider, whose prices are simply too good to be true – often a few pennies per month.
But each of these has fatal flaws that will make hosting on them very difficult. For example, Exabytes is a hosting provider that has really low pricing. But when you dig into the guts of their plan, you see that they have severe limitations on the disk space and bandwidth per month as shown in this screenshot: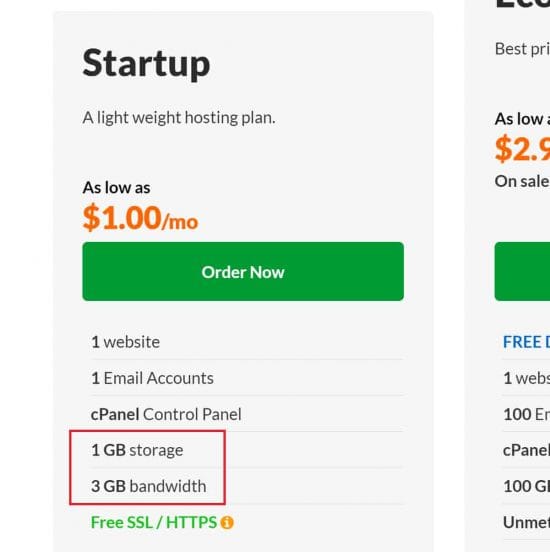 Similarly, GoDaddy and Hostinger don't have basic SSL support – something that's a necessity in today's world. GoDaddy's SSL option is expensive, and Hostinger makes you shell out a one-time payment for so-called "lifetime SSL", which in reality is just the free Let's Encrypt certificates that all the other web hosts like Hostgator provide without any additional charge.
Free Domains with Hosting
These days, most web hosts will give you a free domain when you sign up for an annual plan or more. For a long time, Hostgator didn't offer this, but late in 2019, they decided to offer that as well, along with a slight increase in their annual hosting price.
Some web hosts like Hostinger, don't offer a free domain with cheap plans as shown in the screenshot here:
So if you're looking for the lowest cost hosting, make sure you find one that offers a free domain along with everything else.
MySQL Databases and Disk Space
Unless you want to run nothing but a static HTML site with some images, you're going to need solid database capabilities on your web hosting plan. And not just one database – a few, for contingencies. Extremely cheap web hosting plans tend to skimp on this the most, because it's the most demanding part of a hosting service. Databases use up a lot of CPU time, and so hosts like Hostinger minimize the number of MySQL databases on their basic packages.
You can see in the above screenshot, that it's just 1. Disk space is another resource. Hostgator for example, offers unlimited disk space for regular websites. Of course, there are limitations to this that are explained in the link. But if you have legitimate reasons to use a lot of disk space for your site on even the basic hosting plan, you don't have to worry.
Bottom Line: Don't Go Too Low with Price
There's no such thing as a free lunch. If you find a web hosting plan with costs that are below $3/m for 12-month hosting, or below $2.64/m for 3-years hosting, chances are that it's missing something crucial. Either SSL certificates, or disk space, or MySQL databases. Look at all these very carefully before choosing a plan that can irreparably handicap your website.